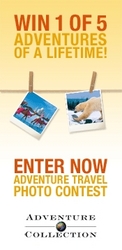 traipsing around Peru's orchid-rich, mist-shrouded Vilcabamba Range, where the mysterious Incan empire seemed to have vanished into eternity, but luckily left behind a wealth of ruins to tug at our heartstrings and minds.
San Francisco, CA (PRWEB) October 28, 2009
With global recovery underway, people are once again looking toward the horizon and letting the wind fill their figurative sails. "Feedback from our members reveals that more and more travelers are requesting catalogs and itineraries and perusing our web pages," said Adventure Collection Editor in Chief Don George. To further whet this wanderlust, George asked the members of the Adventure Collection to recommend one particularly hot trip for 2010 - a journey that especially impassions them. Here are their recommendations.
Natural Habitat Adventures: Ultimate Churchill
This polar bear expedition offers a total immersion into the world of the polar bear and the Canadian Far North. Our warm, self-contained tundra vehicles take us into the icy wild to view polar bears as they hunt, play and interact, entertaining us just feet away from our windows. But our adventure doesn't end there: We'll also helicopter to the bears' denning area where we can climb inside an unoccupied den, experience the northern boreal wilderness by dog sled, and visit with authentic Inuit storytellers. When night falls, we'll watch for the swirling colors of the aurora borealis, as vivid here as any place on earth. "Ultimate Churchill" is the ultimate north.
The Ultimate Chruchill: 7 days, 6 nights; multiple departures in Oct. and Nov.; $6,295 per person, double occupancy
Off the Beaten Path: Inside Guatemala -- Semana Santa, nature, and Mayan spirit
This insider's journey connects you with the spirit of the people, art of the culture, and nature of the place. Learn about Guatemala's famous textiles and folk art from local artisans, many of whom are Mayan. The Mayan culture is alive and well here, and you'll explore the ancient foundations of this influential civilization at the fabulous sites of Yaxha and Tikal.
The UNESCO World Heritage City of Antigua is another real highlight of the journey. It's very special to be in Antigua for the Easter celebration of Semana Santa, when men and women carry enormous religious floats through narrow streets, over elaborate carpets of flowers, pine needles, and brightly dyed sawdust.
From the colorful markets and colonial ruins to the slopes of Pacaya volcano, "Inside Guatemala" offers a very personal view of a fascinating country. Highlights include: Antigua -- nestled in a mountain valley with three volcanoes on the horizon, idyllic Antigua features Spanish colonial architecture and manicured parks; Semana Santa -- Antigua is famous for its celebration of Easter Holy Week, and the entire city participates in the dramatic and colorful event; Mayan ceremony -- within the Iximche ruin is an extremely important site where a local shaman will perform a ceremony in a Mayan language; Pacaya Volcano -- drive most of the way up the volcano then scramble the last mile or so to peer into the active crater and take in the unforgettable views of the valley and three other volcanoes.
Inside Guatemala: Semana Santa, naure, and Mayan spirit : March 27-April 3; from $3,095 to $3,395
Lindblad Expeditions: Viking Saga -- Norway, Scotland, the Faroes & Iceland
Let the daring saga of the Vikings inspire you to go and see something rare: a bit of unchanged past. Aboard National Geographic Explorer, you'll retrace the route of the Vikings across the North Atlantic -- sailing from Bergen, Norway, to Scotland's northern isles and the remote Faroe Islands -- to accomplish a near circumnavigation of Iceland. Taking a zigzagging route, we'll discover striking juxtapositions: Stone Age sites at Orkney; the stunning glaciers and lava fields of Iceland; the crisp maritime architecture of Bergen, a World Heritage site; the rugged terrain and turf-roofed houses of the Faroes; the horizontal expanse of the sea as we voyage; and the vertical pour of Godafoss, the "waterfall of the gods."
Come have an adventure of your own - in the company of the finest explorers from Lindblad and National Geographic. Join renowned modern-day explorers Apollo 13 Commander Jim Lovell (May 11 voyage) or renowned Broadcaster Dan Rather (May 24 voyage) on a voyage into Viking history.
Viking Saga: Norway, Scotland, the Faroes & Iceland: 15 days/13 nights; departures May 11 and 24; from $9,990
Note: Book by Dec. 30 to receive free airfare and $1,000 off the cabin fare on select departure dates and cabin categories. Contact Lindblad Expeditions for full details.
Micato Safaris: A Culinary Tour of South Africa
Guests will join world-renowned Chef "Afro-Gastronaut" Bruce Robertson, former executive head chef at Cape Town's Cape Grace Hotel and the proprietor of Cape Town's The Showroom Café for an insiders' tour of South Africa. Enjoy a lavish welcome dinner at The Showroom Café; a tour of the Cape of Good Hope Nature Reserve followed by a seaside picnic of fresh seafood "potjie"; an opportunity to make your own Malay spice blend with Cape Malay cuisine authority Cass Abrahams; a visit to the South African Mushroom Academy; a tour of golf great Ernie Els' trophy room and private wine cellar; dinner at the legendary Gramadoelas Restaurant, Johannesburg; and four days of game-viewing at Thornybush Game Reserve.
A Culinary Tour of South Africa: 10 days; this is a custom trip--contact Micato for more details; $17,500
Backroads: Spain Biking
On Backroads' new Spain Biking trip, travelers journey from the vibrant city of Barcelona to the Pyrénées and on to Costa Brava. Exploring the heart of Catalonia with Backroads, you'll see why the Catalans are so proud of their land, identity, language, culture, and gastronomy. Culturally diverse, geographically varied, and awash in centuries-old customs, the Catalonia region is made for exploration by bike. From Barcelona, we'll discover medieval French and Spanish border towns hugging the majestic Pyrénées; journey through the peculiar landscape that inspired some of Salvador Dali¬'s first paintings; wind through the countryside, swapping rugged alpine terrain for the lush misty coastline; and finally, luxuriate in the transparent blue waters, untamed vegetation and secluded bays of Costa Brava, which more than lives up to its nickname, "the Wild Coast."
Spain Biking: July 11-16, July 18-23, Oct. 10-15; from $3,998
Canadian Mountain Holidays: Heli-Skiing at Monashees Lodge
Do you like trying new powder skis? Would you like a free pair of skis just for providing your advice? Then join K2 Skis and CMH this winter to help test and design the 2011 K2 backcountry ski line. CMH Heli-Skiing and K2 Skis is offering the ultimate back-country trip for ski-gear junkies at Monashees Lodge. The mature and naturally well-spaced forests lining the Monashee range are responsible for its reputation among CMH guests as a tree skiers' paradise. Along with some of the best tree skiing on earth, the Monashees is also admired for its long, consistently steep-pitched runs.
Heli-Skiiing at Monashees Lodge: March 13-20; $10,770
Bushtracks: 10 Day Southern Africa Wing Safari
Unsurpassed in scope, diversity, wildlife viewing and culture, this private air safari encompasses some of Africa's finest reserves and World Heritage sites. Each day you are in the bush, you will experience up-close game-viewing and a variety of activities in small groups led by naturalist guides. Delight as you see elephants, lions, buffaloes, zebras, exotic birdlife, bushbucks and monkeys. Visit a warm African village and school and study thousand-year-old architectural ruins at Mashatu. Conclude your daily adventures in beautifully appointed safari camps.
Highlights include: The insights of Russell Gammon, an experienced Southern African guide and noted historian, and your Natural History Tours expedition leader on this journey; game drives on foot and in open four-wheel-drive vehicles in some of Africa's finest reserves and World Heritage sites; cultural interactions and a walking tour in Victoria Falls; and the comfort and convenience of private chartered aircraft throughout your safari adventure.
10 Day Southern Africa Wing Safari : departure Aug. 30; $9,995
OARS: Main Salmon River Rafting on the River of No Return
This year, O.A.R.S. went back to the drawing board to save you more than $300 per person on our most popular Idaho rafting trip. Featuring miles upon miles of protected wilderness where little has changed since first appearing on the U.S. map, the Main Salmon offers a rich river experience including free-flowing Class III whitewater that's great for any age and experience level. The adventure includes big sandy beaches perfect for camping and playing, beautiful mountain scenery, abundant wildlife and a natural hot spring. On the Main, we run the full gamut of O.A.R.S.' river vessels so you can experience them all! Riding in an oar boat one day and a wooden dory the next, then challenging the whitewater hands-on in a paddle raft or inflatable kayak, ensures a diverse and exciting river adventure for each member of your party. Dubbed the "River of No Return" by early prospectors, the Salmon is in fact a river you'll want to return to again and again.
Main Salmon River Rafting on the River of No Return: 6 days, 5 nights; multiple departures in June, July, August and September; from $1588 adult, $1435 youth
Geographic Expeditions: The Last Days of the Incas with Kim MacQuarrie
Our world-class Peru expert Clark Kotula is spellbound by the sudden demise of the Incan empire at the hands of the motley bunch of Spanish ruffians we call Conquistadors. And so is his good friend Kim MacQuarrie, author of The Last Days of the Incas, an account of the historic cataclysm the Washington Post called "a welcome addition to the literature. . . lively and dramatic," and Booklist praised as "definitive." Clark and Kim agree that there is no place they'd rather be than "traipsing around Peru's orchid-rich, mist-shrouded Vilcabamba Range, where the mysterious Incan empire seemed to have vanished into eternity, but luckily left behind a wealth of ruins to tug at our heartstrings and minds."
Our minds and hearts will be well tugged on this unique, magnificently orchestrated trip led by Kim himself. We begin with a look at Lima, then fly north to the Pacific coast ruins of Chiclayo, where Pizarro and his gang first landed and began to realize that they just might have found a gold-rich civilization (emphasis on the gold). Then up to Cajamarca in the Andean foothills, where Pizarro overcame an Incan army of 80,000 men with his band of 168 soldiers, 27 horses, and 1 cannon. Wandering these history-drenched precincts with the amiable and erudite Kim MacQuarrie will be a deeply illuminating treat.
The second chapter of The Last Days takes us to what the Incas called Qosqo, the navel of the world. First to Cusco itself, then down to the Sacred Valley of the Urubamba, and over to incomparable Machu Picchu, and on to the remote village of Huancacalle, where we'll stay in a hostel operated by the Cobos family, well known to the archaeologists, explorers, and anthropologists who are about the only outsiders to make their way up here. Now for a rare and beautiful mule-supported trek in the Vilcabamba's orchid-scented cloud forests, visiting ruins on the way to Espíritu Pampa, where the Incan royal family spent their last days in hiding from the Spanish. Coming out of the mountains, we return to Cusco's cosmopolitan whirl before heading back to Lima and home.
The Last Days of the Incas with Kim MacQuarrie: May 1-20, Sept. 1-20; from $8900
NOLS: All-Girls Adventure in Idaho
For the first time ever, the National Outdoor Leadership School (NOLS) is offering an all-girls adventure course! The Idaho backpacking adventure for 14- and 15-year-olds is a great opportunity for leaders to develop their sense of independence, responsibility, achievement, and adventure. They will spend 14 days in the mountains near the Teton Range learning backpacking, cooking, camping, and navigation skills. In addition to becoming competent backcountry travelers students will learn the world-famous NOLS leadership curriculum. Now, with limitless frontiers for women in every field, politics, sciences, business, the ability to lead can take a girl to the top of her profession!
All-Girls Adventure in Idaho: July 15-July 28; $2,975
###