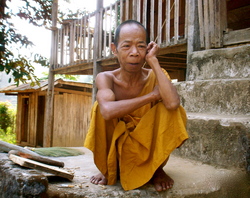 We are honored by National Geographic Adventure and our clients for awarding us one of the highest recognitions in the adventure travel industry
Ann Arbor, MI (PRWEB) January 13, 2009
National Geographic, publisher of Adventure Travel magazine awarded JOURNEYS International top honors for a second year in a row in the prestigious "Do-It-All Adventure Travel" category.
National Geographic Adventure surveyed clients of more than 240 adventure travel companies around the world and ranked them according to education, sustainability, quality of service, spirit of adventure and client satisfaction. Ranking in the top ten in all categories, JOURNEYS scored 100% for client satisfaction.
"We are honored by National Geographic Adventure and our clients for awarding us one of the highest recognitions in the adventure travel industry," states Joan Weber. "We are dedicated to continuing to provide travelers with ecologically responsible trips that will delight the senses and renew the spirit."
In 1978, before the terms eco-travel, sustainable travel, or responsible travel became popular, Will and Joan Weber, the founders and directors of JOURNEYS International, took a small group of open minded travelers on a journey to discover Nepal. Their hope for this trip was to provide their travelers with an emotional and spiritual experience as well as a physical one . The tour involved learning about the local culture and the natural environment through direct, respectful interaction and contributing to the preservation of the Nepalese culture. Since then, the JOURNEYS staff has continually searched for new destinations and new ways for clients to experience them. "At JOURNEYS, adventure travel means more than just a physical experience - it should be emotional, intellectual and spiritual too," according to the editors of National Geographic Adventure. "Clients explore these inner realms during tours that might include a mediation session with Buddhist monks in Ladakh or hang time with local healers in the volcanic highlands of Guatemala"
For more information on JOURNEYS family trips, community based tours or other types of adventure travel go to http://www.journeys.travel or call 1-800-255-8735.
About JOURNEYS International:
JOURNEYS International of Ann Arbor, Michigan, was recently chosen by National Geographic Adventure magazine as one of the Ten "Best Outfitters on Earth." JOURNEYS International has specialized in ecotourism since 1978. They offer the best nature tours, safaris, treks, adventure travel, family and cultural trips on earth. Whether it is called an eco-vacation, adventure travel, eco-travel, eco-tour, sustainable travel or responsible travel, for 30 years they have been creating ecologically sensitive and culturally responsible travel to exotic destinations around the world. Specialty eco-trips include women's tours, Kilimanjaro climbs, exploration cruises, festival trips, student group trips and cross cultural and wildlife safaris. For more information about this trip or other JOURNEYS trips visit http://www.journeys.travel or contact JOURNEYS at 800-255-8735.
###