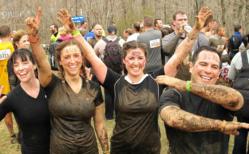 East Providence, Rhode Island (PRWEB) June 21, 2013
Adventure races are all the rage right now. Whether it be the Spartan Race, the Tough Mudder, Warrior Dash, etc., these obstacle-based races are becoming wildly popular. They are appealing not only to the hardcore exerciser, but also to those just looking to start moving. No matter what shape you're in, when you sign up for one of these grueling challenges, it is important that you prepare yourself for what's to come to prevent injury and help you finish successfully.
Tip #1- Our best advice- find an experienced trainer or a special program designed for this type of event. Not just one who is experienced in the field of fitness, but also in what these types of races are like. The only way to know what to expect is to have gone through one of these before, so we recommend you find someone who has. Find out what the race entailed, what the most difficult parts were and physically prepare yourself for them. Training with a fitness professional with ensure your safety and get you the best results.
Tip #2- Don't just run. Many people look at the distance of these courses and figure if they just practice running that distance, they should be fine. Wrong. With a lot of these, the actual running is minimal. It's the endurance, the obstacles and how to manuever through rugged terrain that are the toughest parts.
Tip #3- Get dirty. Many of these adventure races involve some sort of mud or water obstacles. It's a lot different running and manuevering your body with wet clothes and water-logged shoes. Practice what you will actually be doing to get your body used to it.
212 Health and Performance offers an UNIQID [Adventure Race Training Camp __title__ ] starting on Tuesday 7/8/13 that is designed to help racers train for these events. Training twice per week at different locations, we will have participants ready and able to complete any of these races and do it with success. Many fitness facilities are starting to provide training programs like this, so do some research to see if there is one in your area. For more info on 212's Adventure Race Training Camp, check out our site.
About 212 Health and Performance:
212 Health and Performance is built on the premise that within each of us lies the ability to push beyond what we think possible. True progress lies between the familiar and the unfamiliar. When the temperature of water raises just one degree it is transformed from water to steam and its ability to power, transform and create change is generated. This is our philosophy. That going just a bit further, taking one more step, lasting one extra second will mean the difference between same and change. Everyone is here for a different reason, this is your journey, this is your change. 212 Health and Performance. Powered by You.