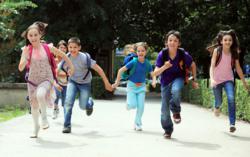 ...A great tool for mentoring our children! I highly recommend Adventures in Wisdom - Joyce Anderson, CEO of www.conversationswithyourself.com
Austin, TX (PRWEB) July 27, 2011
Returning to school after summer break or starting school for the first time can be very stressful for children. Renaye Thornborrow, author of Adventures in Wisdom™, a breakthrough life coaching program for kids, recommends three steps that parents can take to help smooth the transition if their children are uneasy about the upcoming school year.
Step 1: Discuss and Manage Concerns
Give kids the opportunity to voice their fears about going back to school. Once they've shared their concerns, work with them to brainstorm solutions. For example, if a child is worried about how they will perform in math class, create a plan to review concepts before school starts or hire a tutor if extra help is needed. If a child is nervous about making friends at a new school, invite some kids over for a play-date who already attend the new school. Knowing that their concerns can be alleviated will empower kids to face change with more confidence.
Step 2: Discuss and Visualize the Positive Aspects of the Change
Have kids visualize positive aspects of going back to school such as seeing old friends, learning new subjects, and taking special field trips. Just like kids can use visualization to practice hitting a baseball, they can also use visualization to practice creating happiness and success in the classroom.
Step 3: Celebrate and Honor the Change
Parents can schedule a fun event to mark the change. Honoring the change with a celebration will mentally prepare kids for the transition. Hosting a "back to school party" with friends, shopping for a special backpack, or going out for a meaningful family dinner can prepare kids to embrace the new school year.
For more tips on empowering kids, parents and mentors can visit http://adventuresinwisdom.com/sign-up-weekly-wisdom/# and sign up to receive weekly wisdom.
About Adventures in Wisdom™
Based in Austin, Texas, Adventures in Wisdom is a breakthrough life coaching program for kids that uses short stories and activities to teach children ages 6-12 how to develop powerful self-esteem and self-confidence; achieve their goals; handle challenges in life such as fear, failure, and peer pressure; and create happy fulfilling lives. Kids learn over 25 critical life skills via ebooks or audio programs which can be completed while at home or in the car. For more information call 860-580-WISE or visit http://www.AdventuresInWisdom.com.
###