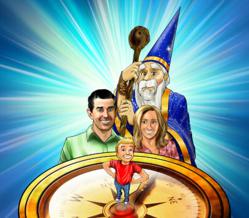 My kids loved the stories! These life skills are critical for our kids. Can't wait to do the next one! - Kathy (Mother of 8 and 11 year olds)
Austin, TX (PRWEB) May 18, 2011
Adventures in Wisdom™ announces a breakthrough life coaching program for kids that empowers kids to build self-confidence and bully-proof their lives. Now, helping kids build confidence, alleviate self-doubt, and deter bullies is as easy as car rides between activities with mom and dad. The program is the first-of-its kind to be lead by a "character mentor", Wyatt the Wise Wizard, who uses fables and activities to make personal development fun for kids.
The program is specifically designed for busy families and can be used at home or in the car. Five programs -- MindPower, InnerPower, MePower, DreamPower and Slaying Dragons, teach over 25 critical life skills using a modular format. The programs are divided into multiple 5 to 15 minute segments that are perfect for everyone to listen to together. Or, older children who want to self-study can read the e-Books in the backseat. Parents can choose from e-Books, CDs, or MP3s. To celebrate the launch of Adventures of Wisdom™ parents can download a free skill book at http://www.AdventuresInWisdom.com/try-it-free.
"The byproduct of Adventures in Wisdom™ is that kids can become bully-proof as they learn to be powerful and self-confident," said author of the program, Renaye Thornborrow, a former marketing executive in the K-12 industry, certified coach, and mother of twins. "Although parents can't give their kids self-esteem, they can empower them to overcome life's challenges and achieve their highest potential by teaching them the principles imparted by some of the most successful personal development masters of all time."
Adventures in Wisdom™ teaches children ages 6-12 how to cultivate self-esteem, overcome fear, learn from their mistakes, stand up to peer pressure, achieve their goals, and create happy fulfilling lives.
About Adventures in Wisdom
Based in Austin, Texas, Adventures in Wisdom's mission is to empower kids to develop powerful self-esteem and self-confidence through their life coaching programs. The programs teach over 25 critical life skills through short stories and activities and can be completed at home or in the car. For more information call 860-580-WISE or visit http://www.AdventuresInWisdom.com.
###