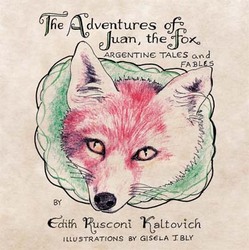 Trenton, NJ (Vocus) October 6, 2010
The fables and tales of Argentina have evolved much like those from other cultures, passed down through generations through the art of oral storytelling before being written down on paper. Examining these age-old stories provides an invaluable look at geographic regions, their customs and their populations. In her unprecedented new collection of short stories, The Adventures of Juan, the Fox: Argentine Tales and Fables (published by AuthorHouse), noted Argentine author Edith Rusconi Kaltovich shares six folk tales and two fables from her native country.
The stories recalled in The Adventures of Juan, the Fox can be traced back to familiar storytelling sessions still enjoyed today. "Fogones de estancia" (campfires), "reuniones camperas" (open field gatherings) and "mesas familiares" (family dinners) all provided opportunities for sharing favorite fables and tales.
Each chapter varies in telling time from approximately six to 10 minutes, and children will delight in stories filled with foxes, jaguars, fawns, frogs, partridges and more. Reminiscent of Aesop's famous fables, human foibles and emotions are conveyed through the actions of lively animal characters as important lessons are imparted about the virtues of patience, honesty and acceptance.
With illustrations by Gisela J. Bly accompanying each story, The Adventures of Juan, the Fox is ideal for family, school and library settings. Discover the timeless wisdom in age-old stories from Argentina in this unique new book.
About the Author:
Born in Córdoba, Argentina, Edith Rusconi Kaltovich is a multi-talented, bilingual writer, poet and translator. She received her master's degree from Mount Holyoke College in Massachusetts, and after retiring from the Trenton, N.J., public school system, became an adjunct Spanish professor at the College of New Jersey and Mercer County Community College. The president of The New Jersey Poetry Society, Inc., Kaltovich is affiliated with numerous poetry-related organizations, including The American Poetry Society, The Academy of American Poets and World Poetry Society International. A prolific author, Kaltovich has also published Brambled Thoughts While Trimming Mimosas, Harvest of Riches, Romances to the Argentine Children, Collect Telegrams, Message of Redemption, Morchito, Five Elements: An Epic (selected poems) and The Little Spanish Folded Paper Bird. Several of these books have been translated into English, and Kaltovich is a member of The Association of Argentine Writers.
AuthorHouse is a premier book publisher for emerging, self-published authors. For more information, please visit http://www.authorhouse.com.
###