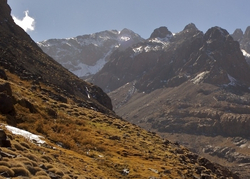 Few can afford a two week holiday in India, SE Asia or Australia, so they're turning instead to Scotland and North Africa for their dose of adventure
(PRWEB) November 4, 2010
As long haul holidays suffer with the economy, the UK's taste for adventure is proving ever resilient. UK travellers are finding new ways to get their dose of adventure, with trekking and glamping staycations booming and adventurous destinations in North Africa benefiting from new low cost airline routes outside of Europe.
Adventurous travellers have traditionally looked to S. America, Australia, N. America and South East Asia for their holidays but UK visitors to these destinations have dropped 20% year-on-year according to the National Statistics Travel and Trade Report. Instead, travellers are choosing to stay at home or fly to exotic destinations that can be reached by low cost airlines.
In the same report Egypt, Morocco and the Middle East are seeing 10% year on year growth in visitors from the UK. Easily reached on a shorter break with low cost airlines, travellers are appreciating the varied attractions of the desert, the Atlas Mountains and the Pyramids.
Ben Colclough, Director of adventure travel agent Tourdust.com says, "We're seeing more and more people who've been on a gap year, got a taste for independent travel, and now want to recapture that sense of adventure on their annual holidays. In the current economic climate, few can afford a two week holiday in India, SE Asia or Australia, so they're turning instead to Scotland and North Africa for their dose of adventure. We are seeing huge demand for Morocco from former gappers and have experienced a doubling in demand for UK glamping holidays this year."
In a separate anecdotal survey of adventure tour operators in UK and France carried out by Tourdust, no frills activity holidays in the UK and France grew whilst more expensive food and culture oriented activity holidays have suffered in 2010.
Notes to editors:
Statistics quoted from Office for National Tourism Overseas Travel and Tourism Statistical Bulletin - August 2010 and qualitative research carried out in August 2010 by Tourdust.
Tourdust is a new online adventure travel agent for independent travellers who are looking to book with responsible, quality local operators. Tourdust is an ABTA bonded travel agent and offers full financial protection and competitive local prices. Experiences offered by Tourdust include Inca Trail treks, Galapagos tours and trekking in Morocco's Atlas Mountains alongside a host of other unique travel experiences.
# # #