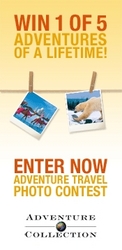 This one-stop site makes it easier than ever for travelers to research their adventure travel options
San Francisco, CA (PRWEB) August 12, 2009
Adventure Collection's new web site AdventureCollection.com enables travelers to research adventure travel tours according to destination, date and activity type. Travelers can quickly see the variety of adventure travel tour options available and can scan thumbnail descriptions of each trip. If they desire more information about a particular outdoor adventure, a single click will take them to a detailed itinerary.
"This one-stop site makes it easier than ever for travelers to research their adventure travel options," says Don George, web editor in chief of Adventure Collection. "With our Advanced Trip Search, travelers can search literally hundreds of trips in more than 130 countries, from cruising in Antarctica to trekking in Bhutan, biking in Italy to wildlife viewing in Zimbabwe. Whatever part of the world you're interested in visiting and whatever activity you want to pursue, chances are good we'll have a trip for you. And with our trip search tools, you'll discover enticing trips you'd never otherwise know about!"
To celebrate the launch of its new site, Adventure Collection is sponsoring an online adventure photography competition. Grand prizes include five extraordinary trips - Adventure Collection journeys for two to Tibet, the Czech Republic, the Galapagos and other locations around the world, including. The theme of the competition is Adventures of a Lifetime. All adventure travelers are invited to enter their best adventure travel photos at Adventures of a Lifetime Photo Contest. Five contest finalists will be selected each month from August through November by popular vote. The winner will be chosen by a panel of distinguished travel journalists, editors and photographers, including Conde Nast Traveler consumer news editor Wendy Perrin, renowned photographer Robert Holmes, Jim Benning, founder and editor of the Travel Channel's WorldHum.com, Los Angeles Times travel editor Catharine Hamm, and Adventure Collection editor in chief Don George.
More information about the Adventure Collection's consortium of premier outdoor adventure travel companies is available on the Adventure Collection site. Adventure Collection member companies include Backroads, Bushtracks Expeditions, Canadian Mountain Holidays, Geographic Expeditions, Lindblad Expeditions, Micato Safaris, Natural Habitat Adventures, NOLS (National Outdoor Leadership School), OARS (Outdoor Adventure River Specialists), and Off the Beaten Path.
United by a common passion for and commitment to sustainable travel principles and practices, these outdoor adventure travel companies also share industry-setting standards for trip preparation and execution, scrupulous and enthusiastic customer service, and inspired itinerary-crafting to ensure authentic off-the-beaten-path travel experiences.
###