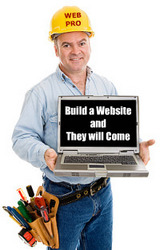 Sue Dolan explains, "A website for any business can be as simple as an online version of a brochure to highlight the scope of a business, provide contact information, and showcase products and/or services."
Byfield, MA (PRWEB) July 29, 2010
Establishing a strong internet presence has become an essential marketing tool for businesses. Creating a website for any business, no matter how big or how small not only immediately establishes credibility but also provides access for customers to readily assess information about the business.
Even antidotal evidence supports the fact that a business website exponentially increased the visibility and revenue growth of a stay-at-home mom's craft business when compared to a similar work-at-home-mom's small jewelry craft business.
Building a business website establishes an internet presence that serves as an inexpensive form of advertising. Not only does an online presence enhance a company's professional image, establishes credibility, and conveys a favorable impression to potential customers; a website also provides company information to the public, offers education to potential customers, and serves as a global emarketing platform.
Marketing research confirms that it isn't necessarily the size of a business website, but the informational content that reassures the legitimacy of the business for customers.
Internet Entrepreneur and owner of Web-Site-Building-Tips.com Sue Dolan observes, "The public has developed an expectation that when they search online for a business, product or service they expect to find results quickly. It a business does not have an online presence then they are literally turning away countless potential customers."
Sue Dolan explains, "A website for any business can be as simple as an online version of a brochure to highlight the scope of a business, provide contact information, and showcase products and/or services."
Without question, too many small and independent business owners become stuck with the mechanics of how to go about establishing a website or they simply do not have the time to devote to learning how to build a website themselves. With a plethora of website design services to choose from, the confusion of business owners actually increases. It is important to select a website building service that has a proven track record for both designing a website that professionally showcases the company as well as serves as a vehicle to advertise business online.
Based upon years of research, Dolan agrees with web design professionals that identifying a reliable web host and design web site service is critically important when contracting with a service to begin building a business website. Too many businesses needlessly throw away thousands and thousands of dollars on a website design that doesn't include any of the features or web hosting support they will need as their business grows.
Dolan recommends, "My experience with the website design and hosting service I use for my own websites as well as to help a local childrens charity with their goal of building a business website is an excellent choice. Not only are the fees for the website more than affordable but the same company includes a hosting plan with a wealth of features and support services."
The bottom line for building a business website clearly demonstrates that establishing an internet presence is not only the best internet marketing tool available for businesses nowadays but vital to establishing professional credibility and promote growth while also providing the most advantageous opportunities to advertise business online as we continue the evolution into the virtual age.
###