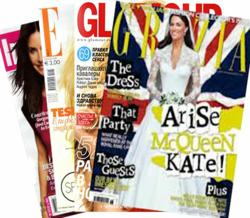 She's (a 21st Century woman) a smarter, more informed consumer than ever before and, for the brands that work hard to engage her, this is great news." ~ YouGov UK
Minneapolis, Minnesota (PRWEB) January 22, 2013
The recent survey by Glamour's 21st Century Woman Report by YouGov announced findings that emphasize the importance of monthly glossy magazines, as the survey conclusively determines that the vast majority of women polled are still buying them regularly. Magazine advertisements effectively promote fashion ideas, behaviors, and product choices to woman - but that is only the beginning of the increasing trend of advertisements that market to women buyers.
Eric Sims, owner of Integral Media, comments: "Marketers delve into research, look at the most current data, and examine the most up-to-date best practices in marketing to the consumer segment that their product or services are ideal for. For a business largely marketing to women, for example, it is important for integrated media buyers placing magazine advertisements to understand how to best reach women shoppers". Market segmentation means dividing your marketing reach into distinct groups of buyers with relatively homogeneous preferences, shopping influencers, or behaviors, which distinguish them from the market mass.
"American women spend about $5 trillion annually; over half of the U.S. GDP. When you factor in that women account for 85% of all consumer purchases including everything from autos to health care, it only stands to reason that the most powerful ambassador a brand can have… is a woman," as widely quoted from She Company.
Kate Middleton, one of the top five most coveted celebrity endorsements, according to the Dave Brown Marketing Index has become America's #1 celebrity brand for women's magazines. Zara credits Kate Middleton's endorsement for tipping their advertising success into a world class fashion arena. "Fast fashion has also become more hip in recent years; even celebrities like Kate Middleton have been photographed wearing Zara," according to New York Times "How Zara Grew Into the World's Largest Fashion Retailer" article published on November 9, 2012.
Further research needs to be conducted to better understand the specific roles age, diversity, background, and even geography play in online advertising targeting women. Glamor's survey lends insight to which mediums were favored by women who read monthly magazines:
1) Print Magazines: 97% currently read print magazines. Over a third read a print title at least once every couple of days.
2) Magazine Websites: 79% visit magazine websites and more than a fifth visit those sites every other day.
3) Magazine Newsletters: growing in popularity as 59% of surveyed women had signed up to them.
4) Digital Magazines: read by over 1/2 of the survey participants.
"Targeted magazine advertising, timely publicity, and direct response advertising are frequently the critical elements comprising the success or failure of a marketing strategy. It is critical to know the advantages and limitations of today's integrated marketing channels, what forms of media are highly trusted, and the different types of ad positioning that most successful influence each gender's shopping decision," says Sims. Magazine advertising is a powerful vehicle by which Marketers find the power to shape future buying behavior patterns via proliferation of ideas, behaviors, and consumption of products.
Readers and shoppers lean on input from sources they trust most, that being monthly magazines according to the study findings. Study highlights as Integral Media sees them:

Monthly magazines are 50% more influential than weekly magazines, TV and magazine websites.
Monthly magazines out-pace free magazines and supplements as being nearly 3x more powerful.
55% of women are still clipping and saving features from glossy magazines for inspiration; the figure rises to 59% for female consumers over 30's.
Glossy monthly magazines are the most trustworthy source of information, according to women.
Magazines are also considered by 78% to be 'more inspiring' than any other medium.
As trusted influences, magazine advertisements are second only to direct recommendations from friends.
Magazines are rated 2x more powerful as recommendations over comments posted on social media.
Magazine content is over 3.5x more trusted than TV and nearly 6x more trusted than separate celebrity endorsements.
Web Advantage says that 47% of the time it is an advertisement's image component that grabs a women's attention."From a marketing perspective, clearly the images used in an online ad are of paramount importance," says Web Advantage. Therefore, perhaps it is the glossy image on the cover of Glamor magazine that has such pull in the realm of women readership. The report titled "Seven Immutable Laws of Online Advertising to Women" survey respondents said the following:
the advertisement's image - 47%
the advertisement's wording or message - 35%
placement of the advertisement - 10%
available ad interactivity - 10%
Contact Integral Media at 952-470-5254 to engage national marketing consultants that can competently handle integrated media buying, while strengthening business media strategies, planning and execution.