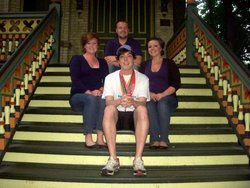 Chicago, IL (PRWEB) July 23, 2009
Businesses seeking to localize their marketing campaigns within different United States cities can now turn to new advertising company 52 Marathons for the answer. Beginning October 2009, 52 Marathons will take the subsequent 12 months to travel through the country participating in 52 major marathons with the sole aim of providing on-the-ground advertising.
Created as a unique and innovative method through which businesses can build their brands, 52 Marathons is coalescing the power of online marketing with the strength of traditional advertising. The 52 Marathons marketing team specializes in promoting business through advertising, press releases, viral videos, pictures, social networks, and more, drawing in new customers regardless of a company's budget or size.
Not only will the 52 Marathons team be present at every 52 marathon races, founder Anthony Harvath will be running in each of the 26.2-mile events for good measure. An astonishing feat in and of itself, Harvath's 12-month adventure is meant to garner as much traditional media and social networking buzz as possible in order to make contributing advertisers' investments a success.
Companies choose from one of three advertising options, allowing them reach millions of consumers across the nation. Advertising packages include a hyperlink from the 52 Marathons website along with a position on the official 52 Marathons running shirt. Additionally, the 52 Marathons marketing team will attend each and every marathon in order to distribute marketing materials (shirts, buttons, etc…) and generate further exposure for contributing companies.
Web-based marketing:
Each of the 52 Marathons advertising packages includes various social media and Internet marketing strategies, including video clips, pictures, and official race times posted on the 52 Marathons website, Facebook, Twitter, Flickr, YouTube, and Myspace.
Traditional marketing:
In addition to Internet-based publicity, 52 Marathons also employs a traditional marketing approach that makes use of press releases prior to each race, website promotion via free even handouts, the official 52 Marathons running shirt, and more.
Starting out at only $10 a race, advertising packages have been specifically designed to accommodate a variety of companies, from local mom and pop shops to big business. A unique and productive advertising opportunity, purchasing a 52 Marathons package is an innovative investment that reaches new customers on a local and national level.
As an added bonus, 52 Marathons is offering advertising package refunds for five randomly selected companies who purchase within the first month of the company's launch. Designed to encourage companies to sign up early, the 52 Marathons refund special includes any of the three advertising packages.
About 52 Marathons:
52 Marathons was created to promote companies that wish to increase visibility locally and nationwide. Anthony Harvath, as crazy as it sounds, will be running 52 Marathons in one year. The trek across the nation will begin on October 11th of 2009 for the 32nd annual Chicago Marathon and come full circle the following year for the 33rd.
The concept began with a group of students who wanted to further their education. However, they were deterred by the staggering $500K in student loan debt that they had already accumulated. In this realization, 52 created a unique and innovative method for businesses to advertise while raising awareness about the current cost of higher education.
The members of 52 Marathons include: Anthony Harvath, Sarah Johns, Josh O'Kain, and Krista White. Each of the members play a crucial role in the 52 marathons marketing team. The end result is to garner as much traditional media and social networking buzz to make your investment a success.
Media contacts
Josh O'Kain Sales / Marketing / PR
Phone: 615.500.0788
Anthony Harvath Founder / Runner
Phone: 336.847.4057
###