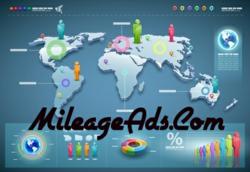 Houston,TX (PRWEB) February 02, 2013
A media representative for MileageAds, an online advertising network, today announced the company is currently accepting applications for publishers and advertisers. Publishers can earn money on a daily basis from their blog or website simply by displaying ads which are relevant to their website visitors.
MileageAds offers bloggers and webmasters an opportunity to earn a substantial amount of revenue via the company's online advertising network regardless of their location. The company provides 'cost per acquisition' and 'cost per click' ads which are displayed on a publisher's website and automatically tracked by the MileageAds network.
Publishers earn money every time one of their website visitors clicks on any of the ads on their website. The company's chief executive officer said, "We give people the opportunity to make money from their traffic so obviously, the more traffic they get to their websites, the more money they're going to make." Participants are paid via PayPal or with a direct deposit to their checking account.
Advertising online is one of the least expensive forms of advertising available in today's competitive marketplace. According to Ansonalex.com online advertising grew by 28% in 2011, 27% in 2012 and it is expected to grow by 17% in 2013 and 11% in 2014. With the MileageAds network advertisers can oftentimes pay as little one cent per click for each lead. Advertisers are in complete control of their spending so they can set a daily or weekly budget to limit the amount of revenue spent on each ad.
The biggest benefit for advertisers is they can instantly increase their sales and brand awareness with highly targeted advertising units which are displayed on a worldwide network of blogs and websites. MileageAds representative said, "There is no waiting period or no long startup process with our network. As soon as a business owner is ready to get started, they can launch a successful online advertising campaign across a variety of channels."
Publishers who want to monetize their website or blog are encouraged to visit the MileageAds online advertising network today. It is free to sign up for a publishing account as there are no startup costs to join the network. Small business owners who want to begin an online advertising campaign are also encouraged to visit the MileageAds website to begin the process of setting up ads on the network.
About MileageAds
MileageAds.com provides individuals, entrepreneurs and small businesses with affordable and extremely effective online marketing solutions.
It was developed to provide advertisers with an affordable online marketing solution that brings tremendous results via CPC and CPA advertising. MileageAds.com also offers opportunities for publishers, who can earn a tidy sum by displaying advertisements via their profitable and easy-to-integrate publisher program. MileageAds.com maintains a commitment to customer satisfaction. And the Mileage Ads team works hard to ensure that advertisers and publishers alike are satisfied and that their questions are answered in a timely and efficient manner.