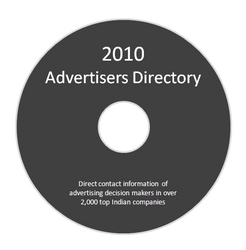 Each contact in our database is phone verified, ensuring that our clients don't waste their time and resources chasing dead leads
(PRWEB) March 8, 2010
With economic recession taking a breather, advertising agencies and PR firms are now back in the hunt for fresh clients as budgets start getting healthier. And, it's not just them - web development companies, creative houses, publications and media houses; virtually everyone on the block is trying to get their share of facetime with potential new clients.
Helping catalyze a large part of this direct marketing exercise is Advertising-India.com, the leading directory publisher featuring top advertising and marketing decision makers from some of the biggest companies and brands across the country. The company recently announced the launch of its 2010 Advertisers Directory, which houses the direct contact information of key advertising and marketing decision makers in some of the biggest companies in India.
"It's just about connecting dots", said Nishith Mathur, owner of an SEO company in Mumbai. "The toughest thing usually is finding the right person within a company and being able to establish contact. With this database, the most difficult part of the sales activity has become the easiest", he continued.
This year, the Indian Advertising Industry is set to grow to almost 21,145 crore (roughly 4.75 Billion Dollars) cushioning the entry of boutique companies like the one Nishith Mathur represents.
As companies venture into newer areas of marketing and branding like social networks and conversation sites like Twitter, this directory is bound to be an invaluable resource for small agencies and boutique firms which provide these services.
"Each contact in our database is phone verified, ensuring that our clients don't waste their time and resources chasing dead leads", commented Siddhart Mehta, a client services manager.
Attractively priced at INR 1,499/-, The 2010 Advertisers Directory has gotten off to a good start this year with sales of almost 1,100 copies registered within 1 week of launch. The company plans to roll out an update to the directory during the later half of this year.
To know more about the 2010 Advertisers India Directory, please visit http://www.advertisers-india.com.
About Advertisers-India.com
Advertisers-India.com is a product of minus6 Interactive, one of India's leading companies in the new media direct marketing space. With 4 offices across the country, minus6 helps some of the biggest brands in the world connect with the Indian consumer.
http://www.advertisers-india.com
http://www.minus6.com
# # #