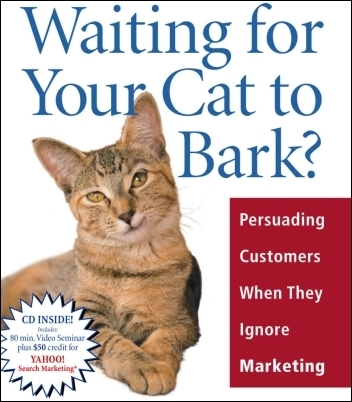 Call to Action: Secret Formulas to Improve Online Results
Nashville, TN (PRWEB) June 27, 2006
Bryan and Jeff Eisenberg, inventors of Persuasion Architecture and founders of Future Now, Inc., give advice on how to bring relevant advertising to customers in their latest book "Waiting for Your Cat to Bark?" The Eisenbergs, also authors of the New York Times and Wall Street best-selling book "Call to Action," say that appealing to emotions is one of the simplest ways to do so.
"Engagement as an end unto itself is not enough," they explain. "Clearly something beyond the simple entertainment value of the message must enter the mix." This assertion begins a discussion on how to think about what is relevant to a customer and ultimately how to apply this knowledge to make sales.
"Studies have demonstrated," write the Eisenbergs, "that when a person can't connect emotionally with whatever task he is undertaking, he will not be able to make a decision. Take scheduling a doctor's appointment. You'll only schedule that appointment when it feels right, when you know the value of getting a checkup, when you have been able to imagine the benefits you will enjoy, when you can actually see yourself doing it, or when you are afraid that not doing it would be worse. You put yourself in the picture and weigh the emotional options."
According to "Waiting for Your Cat to Bark," the easiest way to make an emotional connection is by focusing on the benefits of a product or service as opposed to just features. The reason being, benefits are based on people and features are based on things.
"If there's a feature, there's a benefit," write the Eisenbergs. "And when you identify benefits you can begin to make relevant appeals to emotions."
Principals of Future Now, Inc., Bryan and Jeffrey Eisenberg help companies maximize results by incorporating expert persuasion techniques into website design as well as email marketing, development, and implementation. Co-authors of the New York Times and Wall Street Journal bestseller "Call to Action: Secret Formulas to Improve Online Results," the Eisenbergs developed the patent-pending Persuasion Architecture marketing framework at the heart of "Waiting for Your Cat to Bark?"
Contact:
Michael Drew
512-858-0040
# # #