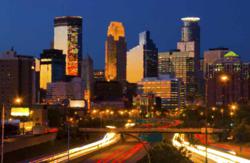 This new venture just goes to show how friendly competition can be embraced because it's the businesses themselves that make a major impact in growing company revenues and creating jobs
Minneapolis, MN (PRWEB) October 30, 2012
Advertising Minneapolis officially launched today offering a new resource dedicated to advertising agencies in Minneapolis, MN. Advertising Minneapolis was created by Christian Del Monte, a Principal of Del Monte & Associates Inc and Chief Technologist for Del Monte Agency, a new Minneapolis advertising agency that just celebrated its first year in business.
"We are very passionate about the advertising industry," said Christian Del Monte Founder of Advertising Minneapolis. "We simply wanted to build awareness around advertising agencies that reside in the Minneapolis metropolitan area, as we are very proud to have some of the best ad firms in the country," he later commented.
Advertising Minneapolis provides a comprehensive list of advertising agencies in Minneapolis, MN and greater metro. Advertising Minneapolis encourages ad agencies to submit their business for inclusion. In addition, ad firms in the Twin Cities looking for additional exposure can request paid featured listings that are currently limited to eight slots.
"Our own advertising agency is built on the simple notion of prosperity," Christian Del Monte continued. "Prosperity is a two way street which can only be achieved when all the stakeholders are rewarded. This new venture just goes to show how friendly competition can be embraced because it's the businesses themselves that make a major impact in growing company revenues and creating jobs," he concluded.
Advertising Minneapolis encourages businesses seeking an advertising agency to take a look at the featured sponsors as well as the growing list of Minneapolis advertising agencies. From there, businesses may feel free to contact any of the agencies listed and review their credentials, submit RFP's, and contact them directly. Additionally, businesses wanting to suggest an ad agency can do so my simply filling out a contact form and the review period is typically less than 10 business days.
About Advertising Minneapolis
Advertising Minneapolis was created by Christian Del Monte, a Principal of Del Monte & Associates Inc. Advertising Minneapolis is part of Del Monte Media's extensive media network which has included business blogging, podcasting, and a new project launched earlier this year that aids corporations in finding highly qualified SEO companies. For more information about Advertising Minneapolis, please visit http://www.advertisingminneapolis.com or call 952-388-0798.
About Christian Del Monte
Christian Del Monte, a Principal of Del Monte & Associates Inc, President of Del Monte Media, and Chief Technologist of Del Monte Agency, is a seasoned Internet marketing veteran who has been practicing Web marketing for over a decade, and social media marketing since 2005. Companies ranging from well-funded start-ups to fortune 500 companies have all sought Christian's knowledge and expertise.
Christian has a B.S. degree in Marketing from Minnesota State University, Mankato. In addition, Christian has over 10 years in personal sales experience and is directly responsible for selling and servicing many of the largest accounts Del Monte Agency has had the pleasure to work for. For more information about Christian Del Monte, please visit http://www.iblogmarketing.com or call 612-276-3900 at Del Monte Agency.