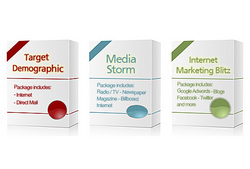 This new feature brings all your marketing needs under one roof. It's like a virtual marketing mall for the small business advertiser. Not only can the advertiser utilize the site for information gathering, they can also purchase pre-packaged
Jacksonville, FL (PRWEB) September 10, 2009
Myadbuyer.com, a leading advertising and marketing search engine; used by marketers to gather media kit information, get rates and view ad deals posted by advertising outlets across the country; announced today the launch of pre-packaged marketing programs for small businesses.
"This new feature brings all your marketing needs under one roof. It's like a virtual marketing mall for the small business advertiser. Not only can the advertiser utilize the site for information gathering, they can also purchase pre-packaged "off the shelf" ad campaigns developed by industry professionals. The "off the shelf" ad package concept is perfect for the business owner that needs optimal exposure but has minimal time and moderate resources." said myadbuyer founder, Greg Thomas.
Marketing packages start at $99. Myadbuyer offers marketing campaigns that include both online and offline media.
To complete the advertising and marketing marketplace, myadbuyer added an advertising services search engine. The advertising services search engine includes advertising and public relations agencies, graphic designers, web development, audio and video production and photography. It's free for advertising service providers to list their company.
"The goal in creating myadbuyer was to make the process of marketing a small business easier. We think with the addition of the marketing packages and the advertising services search, we are now a step closer to that goal." adds Thomas.
About myadbuyer:
Myadbuyer.com is an advertising and marketing marketplace. Advertisers use myadbuyer for the following:
1. To search the media database and find out where they can advertise in both online and offline media and how much it costs.
2. To find advertising opportunities, specials, deals or discounts posted by advertising salespeople across the country.
3. To get help advertising and marketing their business; myadbuyer provides pre-packaged marketing campaigns built for small business. They also offer media buying assistance and an advertising and marketing project management service. In addition, myadbuyer provides a free advertising services search engine, with the ability to search for advertising service companies by city, type of service, skill set and keyword.
###