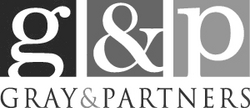 Our business philosophy is simple
Boston, MA (Vocus) February 10, 2009
With the historic presidential election now complete, change is finally on the way - and not just in Washington. Next-generation advertising firm Gray & Partners announced today that it has opened its corporate headquarters at 75 Arlington Street, Suite 500, in Boston Massachusetts. The full-service ad agency also announced the addition of new partners and the launch of its new Website to enhance its capabilities and extend its service portfolio.
Gray & Partners' President Reagan Gray, a west-coast advertising veteran with more than 20 years of experience, is directing all Account Services from the new Boston office. New Creative Strategist & Partner, Karen Albrektsen brings extensive experience in retail buying, financial consulting, and brand development to the team. And new Partner & Director of Business Development, Jon Patsavos, brings more than 10 years of political fundraising, campaign work, and extensive contacts to the firm. Jon has managed fundraising and promotional campaigns for federal candidates including: Joe Kennedy, Jim McGovern, John Kerry, Hillary Clinton for President, and most recently Jeanne Shaheen for Senate.
The newly-constituted Gray & Partners was formed after November's historical Presidential election, where Reagan, Karen and Jon met while working on Hillary Clinton's presidential campaign. "Our business philosophy is simple," states Reagan Gray. "We've got big agency talent, small agency overhead, and we can deliver on any traditional media or social media campaign, through highly creative print, radio, television, Web 2.0, and guerilla-marketing solutions. Simply put, we're the right combination for today's economic environment."
Gray & Partners also announced that it has launched its new Website at: http://www.grayandpartners.com/ . This new site presents the firm's capabilities, and provides details on its successful campaigns across the: political; healthcare; education; renewable energy; financial/banking; food/hospitality; and tourism industries. Clients of Gray & Partners have included: Cedars-Sinai Medical Center, UCLA Healthcare, PFF Bank & Trust, Hillary Clinton for President, Senator John Kerry, Toshiba Business Solutions and GreenHomes America.
To find out more about how Gray & Partners' expanded service offerings can enhance your next advertising, marketing, or PR initiatives, please visit http://www.grayandpartners.com , or contact Jon Patsavos at jon(at)grayandpartners.com.
CONTACT:
Jon Patsavos
Gray & Partners
Phone: 617.424.0600
jon(at)grayandpartners.com
http://www.grayandpartners.com
###