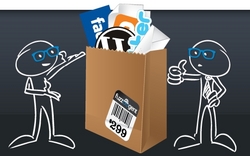 We created FuzzAgent.com for the ordinary people, who are every day on the internet and in the social networks. For the first time a housewife has the chance to earn extra income from activity that has been considered "a sweet waste of time" until now
(PRWEB) April 7, 2011
A new advertising network that sets itself the task to make the connection between publishers and advertisers easier entered into beta testing of its development. FuzzAgent.com has a clear focus on the currently most developing social networks, forums and blogs by thus enabling an easy and transparent opportunity for the people active in social life to capitalize their online presence.
"We created FuzzAgent.com for the ordinary people, who are every day on the internet and in the social networks. For the first time a housewife has the chance to earn extra income from activity that has been considered "a sweet waste of time" until now" – says Mr. Roumen Gueorguiev, a founder and CEO of FuzzAgent.com. "Today it is these people who are at the root of marketing. If up to now they were only its goal, today they can be a part of marketing itself, because a friend's recommendation is much more valuable than the most effective banner".
Social networks, forums and blogs are a suitable way to reach a specific, niche audience by directing advertising to it in the most effective way possible – not just as an advertisement, but as a recommendation from a reliable and trusty source. This allows the message to reach the people that are most interested in it and at the same time it will not look like an advertisement (which everybody has completely got used to) but like a useful information to them. The circumstance that they have received this information from a person who they know and who they trust is at the basis of the success of this type of message. Precisely because of this the individual approach has become a subject to greater and greater interest on the part of advertisers, who are searching for effective opportunities to use the power of social networks.
FuzzAgent is the first system that directly enters into the advertising monetization in social networks in such a specific way by trying to provide the possibility for the people, who have already gained their online authority, created popular fan webpages or have Twitter accounts that are very popular and have many friends, to capitalize their online activity.
The FuzzAgent.com system allows registrations of advertisers, webmasters and people who have their own blog, as well as ordinary people, who are active on Facebook and Twitter. The process of operation in the system is simple and transparent for both parties. The publishers post products in which they describe the service they would perform, as well as the price for which they would do it. The service can be a message on Twitter or a post on a Facebook fan page, which they administer, a post in a forum or in a blog of theirs, and the traditional links.
Additional Info:
Founder and CEO:Roumen Gueorguiev /Bulgarian/,
also Founder and CEO of Rentila.com
French marketplace: http://www.fuzzagent.com/fr
English marketplace: http://www.fuzzagent.com/en
###