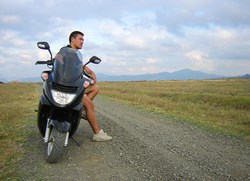 Importantly, always check that you have adequate motorbike insurance with your insurer before taking your motorbike abroad.
(PRWEB UK) 29 May 2012
Events like Euro 2012 will be encouraging motorcyclists to travel overseas for touring holidays this summer, and bikers need to ensure that their vehicle is fit for purpose. This includes making sure everything is mechanically sound, that your bike insurance covers you for riding abroad and that you have an awareness of the laws governing the roads in the countries you intend to visit.
When planning a trip abroad, there are lots of things a rider can forget and a number of things that can go wrong. With this in mind, Tiger.co.uk has compiled a few tips to bear in mind when taking a motorbike abroad:

Always make sure you check with your motorbike insurer that your policy covers you for riding abroad – you might have to extend your policy to cover yourself.
European Breakdown Cover and repatriation for your motorbike is worth considering.
Have your bike serviced before you leave, anything that looks worn or likely to fail should be replaced. It is also worth taking a basic tool kit with along with you on the journey.
Take a copy of your registration documentation (V5C), your insurance certificate and MOT. Do also check if you require any additional papers – some countries require that you hold an international driving permit.
Make sure you have plenty of Euros, particularly if you are travelling in remote areas. It is also worth considering taking a credit card that does not charge for cash withdrawals or offers commission-free purchases abroad.
Unless your number plate incorporates a GB identifier you will need to attach a GB sticker to the rear of your bike and if you are riding in Europe you will need a headlight converter to dip your lights.
Andrew Goulborn, Commercial Director for the site commented: "If you are planning to take your motorbike abroad this year there are a number of measures you can take to make sure your trip goes smoothly. Importantly, always check that you have adequate motorbike insurance with your insurer before taking your motorbike abroad. Ask them what level of cover you will have in the countries you are visiting and make sure that you will be covered for the duration of your stay. It is worth noting that for some UK insurance policies failure to inform the provider that you will be riding abroad could invalidate your insurance cover completely. If you do not have overseas cover you will usually be able to pay for a temporary "top up" to ensure you are adequately protected.
About http://www.tiger.co.uk:
Tiger.co.uk is a trading name of Call Connection Ltd. Tiger.co.uk is a UK based, independent motor insurance comparison site, offering insurance quotes from over 140 insurance brands. Call Connection Ltd is authorised and regulated by the Financial Services Authority (number 308374).