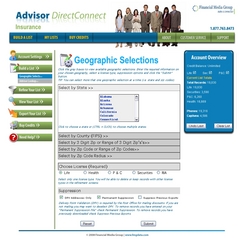 We've simplified the process of selecting exactly the right list with well over 100 data points.
Englewood, CO (PRWEB) March 28, 2011
Financial Media Group, the premier provider of information on insurance and financial intermediaries, announces the release of their newly revised industry leading database platform, Advisor DirectConnect. The product revision coincides with the completion of the most comprehensive database update in the company's history.
The software and data enhancements made to Advisor DirectConnect will give the nation's largest broker dealers, fund companies and insurance companies unparalleled access to the financial intermediaries responsible for the distribution of products and services within the financial industry. With more than 100 searchable data points, the enhanced platform provides market insight not previously available.
Today's financial marketers demand the ability to target advisors and firms in a manner that provides increased response rates while decreasing marketing costs. Financial Media Group is a pioneer in tracking advisor licensing trends, especially as it relates to advisors focused on annuity sales. Release of the new Advisor DirectConnect allows for the highly simplified selection of these important advisors.
Financial Media Group attributes its fast growing market share to a void left by other data providers. While other firms offered information on financial intermediaries, Financial Media Group was the first to provide detailed information on registered reps, RIA firms, fee-based advisors, broker dealers and insurance professionals in a singular, easy-to-use yet powerful platform. Advisor DirectConnect allows total access to valuable data, regardless of the market that is served.
Financial Media Group is positioned to help firms navigate the changing landscape by providing the only 360-degree view of an advisor. This, combined with a full suite of marketing services, results in a company that goes beyond the service of its competitors.
Visit Financial Media Group online and request more information. Be sure to add comments with the special code: PRWEB.
Check out Advisor DirectConnect: http://www.adc.fmgdata.com.
Form Code: 161841
# # #