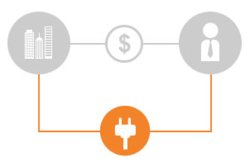 wind2share is priviledge to have Kevin as a member...We are pleased to have a man with his talent onboard and we are confident his support and advice will be of great value to the growth of our Social Business Network
Sunnyvale, CA (PRWEB) May 17, 2013
Kevin DeNuccio, former CEO of Metaswitch has joined wind2share's team and is now formally a member of the Social Business Network Advisory Board
"wind2share is priviledge to have Kevin as a member of our Advisory Board, with such an exceptional trajectory and expertise. We are pleased to have a man with his talent onboard and we are confident his support and advice will be of great value to the growth of our Social Business Network," says Alex Riquezes, Co-founder CEO of wind2share.
Kevin DeNuccio was most recently CEO of Metaswitch Networks until retiring in June of 2012, to focus on Angel investing and consulting. He was CEO for over 2 years and remains a Member of the Board of Directors for over 3 years. Metaswitch, based in London, England, is a world leader in IP software and telecommunications equipment.
Kevin DeNuccio, was formerly the President and CEO of Redback Networks (RBAK-Nasdaq) for 6 years. At Redback he led one of the major turnarounds, financial restructuring, and renewed growth from the telecom meltdown of 2000. In addition to Metaswitch, he is also a member of the BOD of SanDisk Corporation (Nasdaq) a leader in flash memory, Calix Inc (Nasdaq) telecom equipment, Byogy Renewables, a privately held company making advanced bio- fuels, and Northeastern University.
Prior to leading Redback Networks, he was the Senior Vice President of worldwide service provider operations at Cisco Systems. In this role, he was responsible for all field activities in the service provider marketplace. During his tenure at Cisco, Kevin also managed worldwide field operations, including all sales and engineering support organizations.
Prior to his 6 years at Cisco Systems, Kevin was the Founder, President and Chief Executive Officer of Bell Atlantic Network Integration, Inc., a wholly owned subsidiary of Bell Atlantic (now Verizon Communications), with responsibility for all corporate strategy and operations. He has also held senior management positions at both Unisys Corporation and Wang Laboratories as Vice President in their network integration and worldwide channel partner businesses.
Kevin has served on several public and private BOD's over his career including Redback Networks sold to LM Ericsson, JDSU inc., KPMG consulting (BearingPoint), Netpliance (TippingPoint) sold to 3Com, Salesnet sold to RightNow Technologies.
Kevin DeNuccio received his finance degree from Northeastern University and is a graduate of the MBA program at Columbia University. He is happily married with 5 children living in the San Francisco Bay Area.
wind2share is a social business network especially designed to connect foremost companies from around the world with network members who have the local expertise to help those companies enter new markets, by refering leads interested in their services and products, allowing members to Make a Wealth of Referrals™. Join us today for free or Contact us for more information.