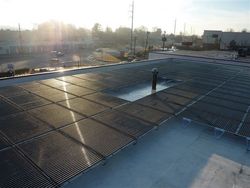 The environmental benefits of solar power are obvious—the challenge is to maximize green operating levels while maintaining a profitable business.
Atlanta, GA (PRWEB) February 23, 2010
Atlanta-based Advantage Laser Products, Inc. (ALP) continues its 22 year commitment to environmentally-minded business practices with its biggest project to date. Beginning January 25, 2010, the flat, white roof of ALP will initiate its transformation from ordinary rooftop to sun-harnessing machine. Complete with innovative solar panel technology, the state of the art system allows for both direct and indirect sunlight to be harvested. And, thanks to a new federal grant and recent state tax incentives, this new plan not only makes environmental sense, it makes business sense as well.
Designed by Empower Energy Technology, ALP's 3-array state of the art solar panel system utilizes solar modules (developed by California-based Solyndra, Inc.) which not only gather direct sunlight, but indirect light as well. As Director of Clean Energy for Empower Energy explains, "Unlike conventional PV modules, Solyndra's cylindrical modules will capture both direct and reflected sunlight from the white surface of Advantage Laser Product's roof. These cylindrical modules, unlike typical flat-surfaced modules, are comprised of a series of cylindrical tubes which are expertly spaced apart from one another, thereby maximizing sunlight absorption." This translates into enormous energy savings as ALP executive Marvin Masson comments, "Without any further green modifications to our building (such as replacing fluorescent lights with LED lights [ALP's next project]), the solar panel system will provide 70% of ALP's energy, including our vast energy needs for cartridge remanufacturing. Once the LED project is complete, ALP will be energy neutral—powering our entire building with our roof."
Though the technology is impressive, the environmental benefits numerous and the energy savings considerable, it's less apparent how such a system makes fiscal sense given its significant cost. As Mr. Masson explains, "The environmental benefits of solar power are obvious—the challenge is to maximize green operating levels while maintaining a profitable business. A couple of years ago I looked into solar energy, but despite a 30% tax credit from the federal government, I could not make the numbers work. However, that's all changed with the passing of the Economic Stimulus and Recovery Act of 2009. This made all the difference."
The difference Mr. Masson is alluding to is that the 30% federal tax credit turned into a 30% grant with the passing of the Act. Even more, the state of Georgia now offers a 35% tax credit for solar installation—allowing companies to have to borrow less money as well as enjoy additional tax incentives. In the end, the solar panel system will pay for itself in 5.5 years. With a 25 year life expectancy, that's nearly 20 years of free green power.
For more information about this exciting project, please refer to ALP's solar blog at http://www.advlaser.com/ALP-Solyndra-Solar-Array-s/508.htm and Empower Energy's website http://www.empoweret.com.
About Advantage Laser Products, Inc.:
Based in Atlanta, Georgia, Advantage Laser Products is a manufacturer of toner cartridges, specializing in remanufacturing or recycling toner cartridges, MICR toner (check printing) cartridges and check printing supplies including HP MICR laser printers and check paper. ALP is located at 1840 Marietta Blvd NW, Atlanta, GA 30318. http://www.advlaser.com
About Empower Energy Techology, LLC:
Based in Atlanta, Georgia, Empower Energy Technology serves the needs of commercial and institutional clients for energy management and supplemental power solutions based on conventional and clean energy sources. http://www.empowert.com
About Solyndra:
Based in Fremont, California, Solyndra designs and manufacturers photovoltaic systems, comprised of panels and mounting hardware for the commercial rooftop market. http://www.solyndra.com
Additional Notes:
Cylindrical modules work most efficiently with flat white surfaces, and therefore are not ideal for all applications.
ALP will be installing their 3 array system over a period of 3 years. Once all 3 arrays have been installed, ALP will yield 70% of their energy from the complete system. This year the 1st of 3 arrays is being installed and will yield 23% of their energy.
###