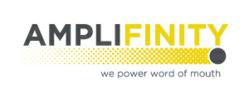 "I liked Amplifinity because large enterprise customers were using the platform. When I interviewed the key decision makers at those companies, they said that every company should be an Amplifinity customer." ` Jonathan Murray, Early Stage Partners
Ann Arbor, MI (PRWEB) December 08, 2011
Amplifinity, formerly known as uRefer, and a leader in Word of Mouth and Brand Advocacy marketing, has closed a $2.5MM Series A financing round led by Early Stage Partners. Amplifinity will use the proceeds to accelerate its growth, further enhance its technology, and grow its client base.
Founded in 2007, Amplifinity's mission is to capitalize on a growing trend in marketing, Word of Mouth/Brand Advocacy. Word of Mouth marketing has provided top companies a fiscally efficient and virally effective alternative to traditional forms of marketing such as advertising and direct mail. Amplifinity's technology consolidates the most effective Word of Mouth marketing methods into one platform that allows clients to identify their brand advocates, grow their consumer base and create wide-reaching social campaigns that are supercharged by the recommendations of actual customers.
Amplifinity's roots in referral management have led to the development of the "Advocate Management Platform," an innovative technology that generates new customers and advocates for its clients. Further, the "Advocate Management Platform" identifies who a client's advocates are: what motivates them to talk and share; and how they should be segmented…while tracking and measuring all of this behind the scenes.
Paul Vlasic, Amplifinity's CEO, says that in today's climate of social media and networking, consumers no longer have to simply trust a brand's promises about its products and services. "An obvious output of social media is consumers looking to their friends and networks for recommendations and trusted advice. Capturing what motivates them to do that, and where, is totally relevant to the future of marketing."
Jonathan Murray, Early Stage Partners Board Member, said, "I liked Amplifinity because large enterprise customers were using the platform. When I interviewed the key decision makers at those companies, they said that every company should be an Amplifinity customer. Social marketing is becoming a centerpiece of all business marketing, and the Amplifinity platform enables Word of Mouth marketing campaigns to be put into place quickly."
This new funding will allow Amplifinity to build out its transactional engine, collect and analyze data and glean powerful, algorithmic insights – all of which will contribute to helping large companies leverage the power of Word of Mouth/Brand Advocacy.
About Amplifinity
Amplifinity is the Brand Advocacy pioneer and has consolidated the most effective Word of Mouth Marketing/Brand Advocacy methods into a powerful platform that allows companies to activate, nurture and grow their advocate base. Headquartered in Ann Arbor, MI, the company is backed by leading investors such as Early Stage Partners and RSVP Capital. Amplifinity is a proud member of the Word of Mouth Marketing Association (WOMMA). Information about Amplifinity can be found at http://www.amplifinity.com.
About Early Stage Partners
Early Stage Partners is an early stage venture capital fund based in Cleveland, Ohio, with an office in Ann Arbor, Michigan. It is the largest and most active early stage venture firm in Ohio, with $100 million under management in two funds. Early Stage Partners invests primarily in promising opportunities in the life sciences, cleantech, and information technology. Since inception, Early Stage Partners has invested in over 30 high-potential companies in Ohio, Michigan, and elsewhere. The company's principals have over 90 years combined experience in early stage company formation and development and significant operating experience. http://www.esplp.com.
###