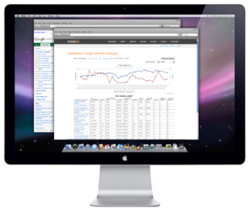 Peterborough, NH (PRWEB) January 23, 2012
@Website Publicity, the digital agency for Search, Social and Mobile, announced today the launch of a Google AdWords campaign management application it built for HubSpot, the inbound marketing solution for businesses. With this app, the Google AdWords Dashboard, HubSpot subscribers can now more accurately measure the value of their AdWords campaigns for lead generation and sales without having to leave the HubSpot tool.
The Dashboard gives HubSpot subscribers a single interface within the HubSpot suite to better measure ROI by monitoring both spend and conversions. Subscribers are able to learn not only what is driving their leads, but how much leads cost and which ad groups are acquiring leads most cost effectively. According to @Website Publicity president Michael Briggs, the app is not only easy to use, it also helps marketers identify where they are spending inefficiently and where they can afford to be more aggressive. He said: "Without the ability to hold each dollar spent to a precise conversion metric, AdWords advertisers are bidding and managing with blind spots. The app is an adaptation of our proprietary PPC tracking software, Tally, that has helped us successfully manage PPC campaigns for our clients since 2000, and it will help HubSpot subscribers get more out of the growing opportunities in Display, Social and Mobile."
"We're excited to bring this newest app to our 6000 customers, who can now more effectively manage their Google AdWords campaigns without leaving their HubSpot," said Mike Volpe, HubSpot CMO. "Since the Google AdWords Dashboard app was created by a leading SEM, it's got the firepower our customers want."
HubSpot subscribers are being offered a free 30-day trial subscription and then may continue with the Google AdWords Dashboard for $25 per month. It is only available through the HubSpot Marketplace.
###