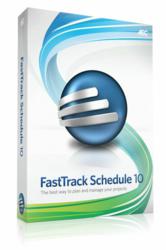 "This is a significant milestone for AEC Software, and we are positive that this alliance will immeasurably help upsell our company's software" said, Serge Gloukhoff, AEC's Director of Sales.
Dulles, VA (PRWEB) September 18, 2012
AEC Software, a leading developer of project management software has announced an agreement with Global Marketing Partners, Inc. (GMP) to distribute its line of FastTrack Schedule 10 software to North American resellers through Ingram Micro (NYSE: IM), the world's largest technology distributor.
astTrack Schedule 10 is a project management and business productivity software for organizing, tracking, and reporting project goals. FastTrack Schedule 10 provides the key project planning and management features that both small business owners and enterprise project managers need in order to secure new projects and manage them effectively. FastTrack Schedule 10 exchanges data with Outlook, Excel, MindManager, databases - even Microsoft Project. FastTrack Schedule is available for Windows, Mac and iPad app users. AEC Software is the first company to provide a complete cross-platform (Win & Mac) desktop project management application and a companion iPad app. FastTrack Schedule Go allows users of Windows and Mac versions of FastTrack Schedule 10 and Microsoft Project files to view their projects on an iPad. Adding availability of AEC Software's FastTrack Schedule 10 through a global distributor like Ingram Micro will give resellers a wanted advantage in the latest project management software, cost, availability and flexibility when building out full client solutions.
About AEC Software
Headquartered in Dulles, VA, AEC Software develops and publishes project management and business productivity solutions for Windows, Mac, and iOS. Big brands and small businesses use AEC Software's products to collaboratively manage projects and achieve business goals. For more information about AEC Software and its productivity solutions, visit http://www.aecsoftware.com.
About Ingram Micro
As a vital link in the technology value chain, Ingram Micro creates sales and profitability opportunities for vendors and resellers through unique marketing programs, outsourced logistics, technical and financial support, managed and cloud-based services, and product aggregation and distribution. The company is the only global broad-based IT distributor, serving more than 145 countries on six continents with the world's most comprehensive portfolio of IT products and services. Visit http://www.ingrammicro.com.
About Global Marketing Partners
Global Marketing Partners is a leading aggregator of emerging growth technology companies in the IT supply chain. Global Marketing partners with the most important distributors in the United States to provide fast, affordable and flexible access to their channel-critical services and expansive market reach. Visit http://www.globalwrx.com