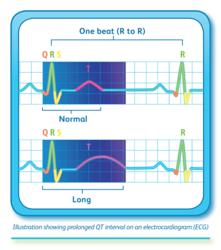 AEDs are user friendly and small, which is very important when it must go with you everywhere.
Brentwood, TN (PRWEB) July 10, 2012
Dan Alatorre is frank, yet realistic in talking about LQTS, a rare in-born heart condition that can lead to death due to ventrical fibrillation. Dan has lived with LQTS his entire life, and his daughter has been diagnosed now as well. "I'm in my 40s and have never had any symptoms or episodes. I hope my daughter has the same experience, but you never know. That's why we carry an AED with us everywhere we go," explains Alatorre.
Mr. Alatorre is the administrator for the Facebook group LQTS Kids and Families. The top of this page says, "Don't get dragged down by all the doom and gloom you read on the internet! Be Aware, Not Afraid!" Great advice, but it is sometimes easier said than done…especially when it is your child. The anxiety that accompanies a diagnosis such as LQTS is natural. The way Alatorre conquers it is by preparation.
"AEDs are user friendly and small, which is very important when it must go with you everywhere." Mr. Alatorre recently purchased a Heartsine Samaritan PAD AED at a deeply discounted rate extended to his group by AED.com. "I opened up mine today and set it up, checked it out, and read the manual. It couldn't have been easier. Very simple, which is what we wanted," he says.
At less than 3 pounds, the Heartsine Samaritan PAD is the smallest AED on the market. Any parent knows what it is like to be a pack mule, and adding another item to the list of needs that accompanies children when you are out and about is inconvenient. That's why Alatorre likes the Heartsine AED. "This AED is usually put in a backpack or purse, so the smaller the better."
A similar-sized AED is the Lifepak CR+ and LifePak Express. Even with the battery pack and pads installed it is only 4.5 pounds. These two devices are offered to the LQTS Kids and Families 500+ members at a fraction of the retail price. Matthew Spencer, President of AED.com, says his company wants to make it as easy as possible for families to own one of these devices. "AEDs for home or personal use have not taken off in the current market because of the expense. While we maintain that it is a very inexpensive insurance policy, it is still substantial investment for families on a budget. That's why we wanted to work with Dan's group."
Sudden Cardiac Arrest claims the lives of over 6,000 people under the age of 18 in the U.S. alone. Most victims appear to be fit. Parents of children diagnosed with LQTS want to be as prepared as possible. AED.com wants to take some of the pain out of purchasing one of these life-saving devices that could be the difference between life and death.
AED.com is located in Brentwood, TN and was founded in 1999. The company carries all brands of AEDs and accessories, including Physio-Control, Zoll Medical, Philips Healthcare, Cardiac Science, Heartsine and Defibtech.