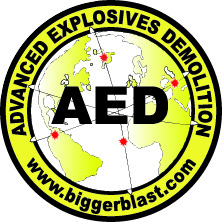 Illusion, Magic, Explosives and Destruction. In my 29-year career I've never combined these terms!
Clearwater, FL (PRWEB) July 21, 2008
"Illusion, Magic, Explosives and Destruction. In my 29-year career I've never combined these terms!" states Eric J Kelly, Explosives Engineer for AED. "Come July 30th I hope to become one of those people who is convinced this will work."
The one-hour special -- titled "Building Implosion Escape" -- will follow Angel as he's shackled in a nine-story building that is loaded with explosives and set to detonate. He'll have to undo restraints and overcome physical obstacles to make it to a hovering helicopter on the roof in full view of the audience before the building implodes.
Idaho-based Advanced Explosives Demolition Inc (AED) will join forces with Tampa-based Cross Construction Services (CCS) for the implosion of the historic Spyglass Resort. AED will use over 100 kilograms of explosives on three floors to reduce the nine story structure into 3,000 tons of debris. CCS will recycle the concrete and metals for future construction use.
"I was shocked when the Criss Angel MINDFREAK team asked if Criss Angel could attempt to escape a building before it implodes," states Mark Wilburn, Director of Operations for AED, "We have worked over six months to bring this to fruition."
An internationally renowned explosives demolition company, Advanced Explosives Demolition Inc provides an alternative to conventional demolition. Combining over 30 years of "High and Hazardous" demolition and implosion experience, AED is world renown for providing property owners and contractors the best "bang for the buck"!
AED, owned by Lisa Kelly, is a member of the National Demolition Association and the International Society of Explosives Engineers.
Criss Angel MINDFREAK is created, directed and produced by Criss Angel, and produced by Angel Productions Worldwide Inc and The Firm. Criss Angel, Dave Baram and Erich Recker serve as the executive producers. Robert Sharenow and Elaine Frontain Bryant are the executive producers for A&E.
# # #