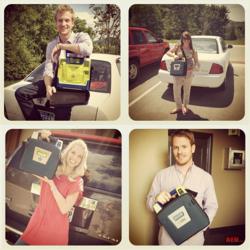 Each of our employees is certified by the Red Cross to perform CPR and use an AED
Brentwood, TN (PRWEB) July 03, 2012
SCA (sudden cardiac arrest) strikes over 350,000 people in the United States every year. The only thing that will potentially save those included in this staggering statistic is a defibrillator. While some first responders (EMS, Fire Departments, Police/Law Enforcement) carry AEDs, they often arrive after the window of opportunity closes on saving the victims life.
Once SCA strikes, a clock begins to tick. For every minute that passes, the victim's chances for recovery diminish by 10%. After 5 minutes without therapy from a defibrillator, the chances for a full recovery are reduced to almost zero. This is why the public needs to make AED coverage a priority. Reliance on our first responders is simply not enough to ensure that lives are saved.
Matthew Spencer, President of AED.com, was recently asked about the potential for growth in the AED marketplace. "Think about how many lives would be saved if every home and workplace had an AED with people trained to use it," he said. With the vast majority of our lives spent in the workplace or at home, it would make sense to have coverage in those two areas.
"The AED market is only limited to the number of structures and vehicles in our country. What if every person had an AED in their car or truck? This question is what led us to issue each of our employees their own AED to be carried in their vehicle," Spencer stated.
No matter where AED.com's employees are (work, home, fitness center, sporting event, restaurant, etc.), an AED is only moments away...and they are trained to use it. "Each of our employees is certified by the Red Cross to perform CPR and use an AED. AEDs are designed to be used by laypeople with little or no training, but in a stressful situation training is key."
In addition to all AED.com employees being CPR and AED certified, each member of the company's sales team is also a certified instructor. This additional education has been extremely valuable to AED.com's customers. "Several visitors to our site come looking for advice about which AED is right for them. Our sales team's experience and ongoing education plays an essential role in providing a unique and unbiased recommendation for the customer's specific needs," according to Spencer.
For more information on AEDs, please visit: http://www.aed.com/
AED.com is headquartered in Brentwood, TN. AED.com's parent company, DXE Medical Inc. was founded in 1999 and provides services to over 20,000 customers in all 50 U.S. states and 35 countries worldwide.