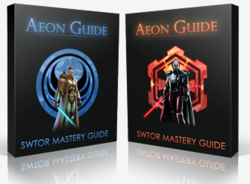 Aeon SWTOR Guide is one of the top SWTOR guides
(PRWEB) December 23, 2011
Electronic Arts(EA) has officialy launched their biggest and most anticipated MMO game, Star Wars The Old Republic(SWTOR), and Aeon Guide gives players comprehensive information on builds, leveling, skills tree, PvP, PvE, Tanking, and Healing. There are only a few MMO games that have gained a million plus monthly subscribers, like Lineage, and World of Warcraft. Star Wars is a big brand, and it won't be hard for EA to market the game and have a strong fan base. Early feedbacks of gamers have indicated very positive reviews. Glitches and other issues are also present, which made the game less perfect when it launched. A patch will come, but the main issue for a lot of players are the server queues. There are a lot of SWTOR servers available, but the number of people playing the game is huge.
SWTOR focuses on the story, and players will have a unique gaming experience depending on the moral choices they chose. SWTOR gameplay begins with each player choosing between 8 character classes.
Millions of players will be searching for the best ways to level up fast, have the best builds, have the best skill tree, get the top equipment, and dominate SWTOR. Difficulties will also be present with every level and abilities that players will choose from. There are a number of SWTOR guides currently available which gives specific instructions, strategies, and tactics on how to play SWTOR efficiently. Aeon SWTOR Guide is one of the top SWTOR guides.
Aeon SWTOR Guide includes the following :
1. Jedi and Sith detailed guides
2. Detailed guides for the 8 main classes - Jedi Knight, Jedi Consular, Bounty Hunter, Smuggler, Trooper, Sith Warrior, Imperial Agent, and Sith Inquisitor
3. Detailed guides for the 16 advanced classes - sage, shadow, guardian, sentinel, commando, gunslinger, scoundrel, vanguard, operative, mercenary, powertech, sniper, assassin, sorcerer, juggernaut, and marauder
4. Leveling tricks and tips with abilities/skills recomendations
5. Power Leveling, PvE, and PvP Builds
6. End-game guides
7. Healing and Tanking Builds
Aeon Guide's authors are veteran MMO gamers, and have a solid commitment to provide a comprehensive SWTOR guide. They played during each beta, and have documented their strategies, tactics, builds, skills tree, and more. The information contained in Aeon SWTOR guide is an exclusive content made by a group of paid professionals, so Aeon guide will continually be updated with the latest builds, abilities/skills recommendations, and strategies.
For more information and detailed review of Aeon SWTOR, go to http://topswtorguide.com.
###