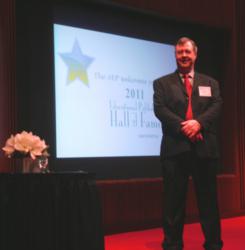 In 30 years, we've seen thousands of students who were thought to be 'unteachable' rise to such extraordinary levels of academic achievement.
New York, NY (PRWEB) December 07, 2011
At the McGraw Hill Auditorium, more than two hundred members of The Association of Educational Publishers (AEP), came together to honor Don C. Johnston for his lifetime commitment to serve children and adolescents with disabilities such as dyslexia, autism, traumatic brain injury and cerebral palsy.
Mr. Johnston, founder of the company that bears his name, develops assistive technologies and literacy programs to help students read and write. His products are best known in K-12 special education for breaking through literacy barriers and the cycle of failure that often impedes a child's ability to succeed academically.
For children who cannot read, write, spell or communicate through traditional teaching methods, Johnston's literacy programs and adaptive devices are scientifically designed to accommodate their needs. According to the National Center for Education Statistics (NAEP), 6.3 million students, ages 3 to 21, receive special education services in U.S. schools today -- about 13% of public enrollment. Wikipedia, Special Education in the United States, estimates 40% of those students have a learning disability (LD) and more than 19% a speech or language impairment. Today, more than 32,000 U.S. schools and districts use his literacy software. He and wife, Cheryll are also involved in humanitarian projects, most recently sponsoring students and schools in Kenya, Africa.
Ruth Ziolkowski, President of the company and longtime friend gave a heart-warming introduction to Johnston's keen leadership, devotion to teachers and parents and his vision to help all children reach their academic potential. Ms. Ziolkowski began her career with the company 25 years ago as an occupational therapist. She acknowledged the loyal support of tens of thousands of educators who use the company's products to make a sustainable difference in the lives of their students.
"In 30 years, we've seen thousands of students who were thought to be 'unteachable' rise to such extraordinary levels of academic achievement," she said. "These are the children that we may not easily be able to converse with. They may not be able to pick up a pencil or carry an armful of textbooks, but they are capable of being successful with the right tools and teacher support."
During the celebration, publishers and guests watched a compelling video created by Johnston's two sons, Ben and Kevin in dedication to their father. The video documents his lifetime achievements via testimonials from industry leaders, academic researchers, educators and letters from students about his autobiography Building Wings How I Made it Through School.
Johnston wrote the book for teens about his personal struggle growing up with dyslexia in the 50s. An online e-book version is free to read or listen to on his website. In the book, he talks about being bullied and about Mrs. Tedesco, a teacher who awakened his confidence and encouraged him to read his first book at the age of 15. The book also addresses the unfortunate labels and misassumptions that individuals still have about persons with disabilities. Johnston encourages administrators and teachers to discuss his book to open new dialogue about solving these challenges.
"If you would have told me as a teenager that someday I would receive an award from the Association of Education Publishers, I would have thought you were crazy," said Johnston at his induction speech. He dedicated his award to students who struggle and feel failure. "Your feelings of failure do not have to get in the way of your success and your life goals," he said. "I believe that my learning disability actually helped me in business because it forced me to do things differently."
Johnston receives hundreds of letters from students and writes back to them. He tells them, "not to give up" and to set high expectations for themselves. He also advises them to ask their teachers to find the right tools and strategies that will best accommodate their needs and to find mentors who will help them learn in new ways.
In honor of this award, his company plans to contribute to several social causes in 2012 to recognize student and educator academic good works through the use of technology. These are:

A Student Scholarship Fund for students who knock down their learning barriers.
Camp Courage, a MN summer camp for children with autism and Aspergers Syndrome.
The Patty Walsh-Cassidy AT Lending Library, Collaborative Center for Assistive Technology and Training to support their collection of AT hardware and software resources.
At the event, Dr. Charlotte Frank of McGraw Hill Education and Paul McFall of Pearson School also received the 2011 AEP Hall of Fame Award for their lasting contributions to K-12 education.
About Don Johnston Incorporated
Don Johnston (http://www.donjohnston.com) develops accessible reading and writing technologies to support K-12 and postsecondary students with cognitive, physical, and learning disabilities. Since 1980, the company has partnered with literacy experts, AT specialists, SLPs, OTs, and special education teachers to improve access to learning and thereby increase students' reading and writing independence. Individuals with dyslexia, autism, dysgraphia, down-syndrome and various multiple learning challenges will benefit from the assistive technology software and hardware devices that accommodate their learning needs in schools, the workforce and at home.
Find us on Twitter and Facebook
###