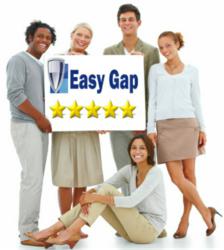 2012 has been a record year for Aequitas Automotive brands Easy Gap and GapInsurance123
Wirral, UK (PRWEB UK) 1 December 2012
2012 has proved to be a momentous year for leading UK Gap Insurance provider Aequitas Automotive Ltd. In February they were the only UK company to have two independent brands, Easy Gap and GapInsurance123, featured in the Which report into Gap Insurance in the country. This recognition, plus added emphasis on online marketing has seen the company post record results for retail sales in 2012.
Aequitas Automotive plan to capitalise on this success with the creation of three new product brands in 2013. Director of the company, Mark Griffiths explained the plans for the new year, and reflected on the successes in 2012.
"This year has been a huge success for Aequitas. The long hours of hard work and planning have been justified with results way beyond our budgets and those of our insurance partners. Of course the discussions at meetings will always come around to why, and I believe the roots can be traced to two decisions we made over a year ago.
The first was the decision to take the marketing of our products 'in house'. We found that placing this task in the hands of an SEO company was just disastrous. Aequitas provides niche shortfall insurance products that need to be understood by those seeking to promote them. Who better understands our products than us?
Well placed 'organic' rankings in the search engines is essential for increasing profitability. Aequitas have invested huge man hours to achieve this, and indeed we now occupy over 50% of 'SERP real estate' when it comes to high performance keywords.
The second decision was to launch our second Gap Insurance brand, GapInsurance123 a year ago. Many outside Aequitas were skeptical as to why we would want another brand to compete with Easy Gap, but the decision has been vindicated.
Indeed Aequitas sales figures have shown a 200% increase in 2012 compared to last year."
It is on the back of a record 2012 that Aequitas Automotive have announced plans for three new brands in 2013. Mark Griffiths explained the plans for the year to come.
"Our recently expanded marketing team gives us the opportunity to provide quality content for more than the two brands we currently provide. This gives us scope to launch 3 new brands in the UK next year.
2013 will see Aequitas develop three new brand for the UK market. We have already signed off and agreed a new Gap Insurance brand with a new major insurer to the market. With the Easy Gap products now underwritten by Ageas, we feel this proves our commitment to provide products of pedigree.
Aequitas will also launch brands in associated products such as Tyre Insurance and Scratch and Dent SMART Insurance. These products we are constantly asked for by our customers."
Aequitas also confirmed that the new brands will require further investment in the workforce, and new jobs will be created as a result, as Mark Griffiths confirmed.
"We have recently moved to a new, self contained office complex. The move was necessary to accommodate new staff we have recently recruited, not least our expanded marketing department. The new premises also provide us with room to expand the workforce as the new brands progress in the new year.
If we can match the 200% increase in sales we have seen in 2012, then 2013 promises to be an interesting and busy year at Aequitas!"