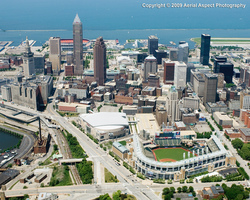 "Wow, even Cleveland looks good from the air!"
Cleveland, OH (PRWEB) September 15, 2010
At a recent showing of aerial photography by Aerial Aspect Photography's owner, pilot and photographer Brian Matz at a local art show, a remark frequently heard from people viewing aerial photographs of the Cleveland skyline was "Wow, even Cleveland looks good from the air!"
And that is why aerial photography can be a powerful tool that can be used to promote a region like northeast Ohio. Aerial photographs show the familiar world in a way that is unfamiliar to most people, and in doing so, they naturally attract attention.
Aerial Aspect Photography, a locally owned small business enterprise based in the Cleveland suburb of University Heights, offers both stock photography of the area as well as custom photo flights. With big projects on the horizon such as the new I-90 Innerbelt Bridge, the Medical Mart, and the Cleveland Casino, as well as major development in areas such as University Circle , there's never been a better time to capture the activity that IS happening in Cleveland from an aerial perspective.
If a picture is worth a thousand words, then an aerial photograph is worth ten times that. Check out Aerial Aspect Photography on the web at http://www.aerialaspectphoto.com or call 216-337-5643 to find out more about this local business can help you.
###