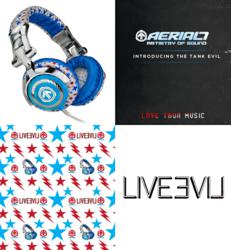 Los Angeles, CA (PRWEB) November 16, 2011
AERIAL7 and Josh Madden have teamed up again to produce the TANK EVIL. Based on the huge success of Madden's first collaboration with AERIAL7, the Tank Mondrian, the two partnered again to launch their second patterned design.
According to Madden, the inspiration for the TANK EVIL came from "the true Dare Devils in life who take care of business but don't forget to keep things interesting." The TANK EVIL's design features red and blue stars and lightning bolts, highlighted with chrome accents. When asked to describe the design of the TANK EVIL, Madden said, "its part TCB 'Takin' Care of Business' (Lightning Bolt) and part 'Patriotic Dare Devil' (Always Live on the Evil Edge)."
AERIAL7 is known for merging eye-catching designs and superior acoustic technology and do just that with the TANK EVIL. The AERIAL7 Tank headphone's 57mm driver and over-the ear fit have made it a favorite among some of the world's greatest DJs. Josh Madden's fresh design on the TANK EVIL allows DJs to express their Dare Devil lifestyles through their headphones. Learn how to win a pair of the TANK EVIL headphones by checking out AERIAL7's blog.
About AERIAL7:
AERIAL7 was created in 2008 by three friends from dierent backgrounds who share a common vision for building unique audio products influenced by their passion for art, music, street culture, fashion and the active lifestyle that they live and breathe.
Since AERIAL7 began, the team has strived to be at the forefront of emerging fashion and technology, introducing unique materials, finishes, original wearing styles and impressive acoustics that redefines the headphone as a fashion accessory.
Working with the constant feedback of AERIAL7's team of ambassadors from around the world, AERIAL7 products are constantly evolving, influencing and challenging the headphone market.
AERIAL7 has quickly become a fast growing music lifestyle company with business headquarters in Los Angeles, a design center in Australia and distributors in over 60 countries.
###