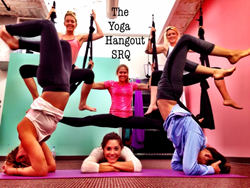 'I'd been out of the fitness community and was nervous, but I had a ton of fun,' says Wendy. 'I quickly overcame my fears and now enjoy doing this with my daughter.'
Sarasota, Florida (PRWEB) March 16, 2014
Yoga and fitness buffs are going airborne, and hanging upside down in colorful silk hammocks. Aerial Yoga is the newest offering at Sarasota's Studio South Fitness. A cross between Ringling Bros.-style aerial dance and ancient yoga techniques, the new discipline is sweeping the country, attracting everyone from kids to aging baby boomers; the flexible and the not-so-agile.
Studio South's Aerial Yoga classes are led by trainer Margie Pargie in their Yoga Hangout loft, Monday through Friday. The poses and exercises are performed using long silk hammocks suspended from the ceiling and secure enough to hold up to 1,000 pounds.
Exhilarating yet calming
Gentle on joints, back and spine, Aerial Yoga is a relaxing combination of exercise for the mind, body and soul. Its benefits include deeper stretches, increased upper body strength, improved posture and reduced back pain. Participants describe the experience as exhilarating yet calming, according to Margie.
"It also helps people break through their fears," she says. "Performing a back flip is surprisingly easy and fun, even for my clients who are just starting a workout program."
Pete Liashek, co-owner and personal trainer at Studio South Fitness adds, "Everyone needs strength training just to function in everyday life. I've seen 50-year-olds who can't get out of a chair without relying on the support of arm rests." Pete cautions that walking the Ringling Bridge or jogging on a treadmill is not enough to maintain a healthy lifestyle. "Strength training is crucial to avoid losing muscle mass, a natural occurrence with aging."
What yoga aerialists say
Emily Gaudioso, 25, and her mother Wendy are owners of Lily Bliss Boutique in Bradenton, FL. They take aerial yoga classes together at Studio South Fitness. "I'd been out of the fitness community and was nervous, but I had a ton of fun," says Wendy. "I quickly overcame my fears and now enjoy doing this with my daughter."
"We noticed an immediate increase in flexibility and strength," adds Emily who performed in the Sarasota youth circus.
Another client, a runner, was diagnosed with double frozen shoulders, a common and extremely painful condition. Her doctor recommended that she begin exercises to strengthen her upper body. That's when she started Aerial Yoga. "I feel more toned," she says, "and it gives me a huge mental lift. It's relaxing yet challenging."
Aerial Yoga at home
For those who want to continue their practice at home, Studio South sells the silk hammocks for $200.
To request a complimentary pass to an Aerial Yoga class email info(at)studiosouthfitness(dot)com or request on facebook.com/studiosouthfitness.
About Studio South Fitness
Studio South is Florida's only fitness training provider to be fully staffed by FMS-certified trainers. The professional training staff holds more than 85 fitness industry certifications, bringing a wealth of specialized knowledge and experience to a personalized fitness program. Studio South supports the community by donating time and thousands of dollars to local schools and nonprofits and has been honored by the Chamber of Commerce for its involvement. Studio South is located at 711 S Osprey Ave. #1, Sarasota, FL.