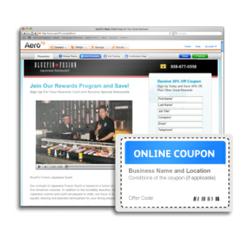 Aero79.com is the ultimate, easy-to-use online marketing toolkit designed to help small business reach more new customers and increase sales.
- Scott C. Berg, CEO
San Diego, CA (PRWEB) May 11, 2011
MORE CUSTOMERS, MORE SALES
A small business needs more than a website. They need an easy way to promote their business, reach more new customers and increase sales. Aero79 is designed by experts so a small business doesn't have to be one. Aero79 offers everything they need in one place, made easy. Try Aero79 At No Charge Today!
> Search Optimization is built right into their promotions so that they appear in keyword searches on Google, Yahoo and other top search engines.
> Social Networking is built into the platform allowing them to instantly post messages with their promotions and coupons onto Facebook and Twitter.
> Email Marketing can be added so they can send auto response emails to each new lead they capture through their Aero79 promotions. Plus, they can email offers to existing customers.
> Local Online Directories adds another free way to reach local customers and direct them to their latest promotions.
CUSTOMIZE TO FIT YOUR BUSINESS
As a small business ourselves, we understand Aero79 must be flexible, affordable, easy-to-use and accessible from anywhere at anytime.
> Flexible – Access everything a small business needs all-in-one place. Add, edit and update promotions, coupons or email to match their business needs.
> Affordable – Create an Account At No Charge or Upgrade to Premium Services for $36/mo only after they see it delivering results for their business.
> Easy-To-Use – Use our step-by-step process and easy "click and complete" system to build promotions and advertise them through Search, Social, Local Listings and Email in minutes. Plus, the simple tracking system and built in lead capture makes it even easier to manage.
> Accessible – Create, manage and update their ad programs from home, work or on the go.
Try Aero79 At No Charge Today!
Example: A Day Spa is having a slow day and wants to pick up business in the afternoon. Using Aero79 they can create a quick coupon for "32% Off Massages Today Only" then blast it out to all their followers on Facebook, Twitter and Email. Instantly the have delivered an incentive that customers can immediately respond to as well as share with friends leading to more sales.
Example: A Dentist Office wants to promote their "Invisalign Teen" service can create a promotion and optimize it to appear in local searches. Now when someone types in "Invisalign Specialist, San Diego" in Google, their promotion page displays near the top.
Click Here to See the Google Keywords Results Page and Select the Promotion
EASY-TO-USE
Aero79 is designed to be easy using a simple step-by-step "click and complete" process. In minutes they can have their online business presence up and running with promotional offers and coupons.
WHO USES AERO79.COM?
Aero79.com is great for any small retail, service or hospitality business that needs an easy, affordable way to promote their products and services. Aero79 is especially valuable to individuals running their own business, like a hair stylist, painter or accountant who may not even have a website. With Aero79 they can create their own business page giving them their own online presence in a few simple clicks.
See a few promotional examples for yourself:
Restaurant - See Example
Painting Service - See Example
Contact us to see even more examples for chiropractors, dentists, accountants, painters, restaurants, clothing stores, flowers shops and other small businesses.
OUR PROMISE
As a small business and every customer counts. Each day everyone at Aero79 is working to make other small businesses successful. Our goal is to provide them with an easy-to-use solution that delivers big results at a price that makes small business sense.
Aero79.com is an online solution of Motiva79, LLC.
We are a small business based out of San Diego, CA.
To learn more about us please visit our website or email Scott Berg at sberg [at] aero79.com.
###