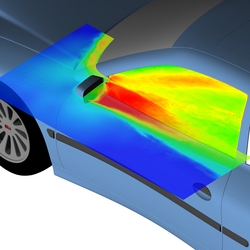 PowerACOUSTICS is an important technology advance for wind noise engineering that will allow us to get valuable information about aeroacoustic performance earlier in the development process.
Burlington, MA (PRWEB) November 4, 2009
Exa® Corporation, a global innovator of fluids simulation (CAE/CFD) software for product engineering, announces the release of PowerACOUSTICS™, the first and only validated solution for the prediction of interior noise due to external air flow. PowerACOUSTICS enables aeroacoustic and noise control engineers to efficiently simulate, analyze and collaborate on sound package design and exterior shape optimization in the early stages of a program, in support of developing and achieving interior noise targets. The ability to assess wind noise early allows for design changes to be made when the impact is large and the cost of changes small.
"With wind noise consistently ranked as the number one vehicle consumer complaint, we realized that with Exa's unique technology we had an opportunity to help our customers efficiently and economically address this critical issue," commented Stephen Remondi, Exa's President and CEO. "With PowerACOUSTICS, accurate early-stage aeroacoustic design studies can be made with high confidence."
Noise control engineering is an ongoing challenge for ground transportation and aerospace manufacturers. Specially treated aeroacoustic wind tunnels can measure the interior noise, but noise source identification and visualization is difficult and testing is not possible until physical prototypes are available--too late to effectively impact design. Fixing wind noise problems late in the development process is expensive, requiring added cost and weight. Exa's inherently transient and compressible flow solver technology is unique in its ability to simulate and visualize the flow-induced sources of noise and resulting transient pressure loading on the external surfaces. However, until now, there has been no robust way to transmit the external pressure fluctuations to the interior to predict the noise levels at the occupant locations.
Due to the overwhelming need for an accurate and cost effective noise prediction solution, companies such as Nissan North America are already finding success evaluating aeroacoustic performance with Exa. Dave Lepley, NVH & Wind Noise Manager for Nissan North America stated, "PowerACOUSTICS is an important technology advance for wind noise engineering that will allow us to get valuable information about aeroacoustic performance earlier in the development process."
"Exa's aeroacoustics team has years of industry experience in fluids analysis, aeroacoustics, and structural acoustics," said David Freed, Senior Director of Aeroacoustics at Exa. "We have extensively validated PowerACOUSTICS predictions against a suite of experimental test data and have developed a complete wind noise solution, including best practice case setup and analysis procedures for reliable results and ease-of-use."
About PowerACOUSTICS
Combined with Exa's flagship product, PowerFLOW®, this newest product offers numerous benefits that enhance and improve acoustic design as part of the digital product development process:

Enables assessment of wind noise throughout the development process. Exterior wind-generated pressure load data from PowerFLOW is input into PowerACOUSTICS' structural-acoustics solver module to provide the wind noise contribution to the sound at the vehicle occupant's head location. PowerACOUSTICS seamlessly integrates into the product development workflow and enables acoustics engineers to analyze and address wind noise issues throughout the development process, from early shape design trade off analyses through resolving issues found at final prototype testing.
Enables quantitative, early-stage design trade off studies. With PowerACOUSTICS, early wind noise data is collected to enable the collaboration of aerodynamics, sound engineering, and design teams. It is finally feasible for engineers to have proactive discussions on exterior shape and sound package design optimization prior to prototype build.
Optimize sound package for cost and weight savings. With fuel economy a top design concern and emissions regulations increasing, vehicle weight is a critical aspect of any design. Many traditional acoustic fixes (such as laminated glass) are heavy and expensive. By visualizing and evaluating noise sources prior to any physical prototypes being built, acoustics engineers can request exterior shape modifications to reduce noise levels at little or no cost. PowerACOUSTICS allows quick and easy analysis of the impact of different sound package configurations (in the form of glass panel and cabin absorption properties) on the interior noise levels at each occupant location. A contribution analysis feature is included to facilitate comparative assessment of the contributions of various glass panels to the total predicted interior levels.
Reduces dependence on prototype wind tunnel testing. PowerFLOW coupled with PowerACOUSTICS provides a digital aeroacoustic wind tunnel which is not only cost-effective relative to physical test, it has the added benefit of providing detailed visual insight into how design features and changes impact the noise sources. Moreover, with Exa's Total Analysis solution, wind noise performance assessment can reuse the same detailed digital prototype that is used for aerodynamics and thermal studies.
PowerACOUSTICS will be available for general release in November.
About Exa Corporation
Exa Corporation develops, markets, and supports a suite of fluids simulation software solutions including PowerFLOW, PowerACOUSTICS, PowerDELTA™, PowerCLAY®, PowerVIZ®, PowerSPECTRUM®, PowerCOOL® and PowerTHERM® along with professional engineering consulting services. Exa's products and services enable engineers to create competitive designs, while shortening product design cycles, and speeding time-to-market. A partial customer list includes: AGCO, BMW, Chrysler, Ford, Hyundai, Kenworth, MAN, Nissan, Peterbilt, Renault, Scania, Toyota, Volkswagen, and Volvo Trucks.
Founded in 1991, the company is headquartered at 55 Network Drive, Burlington, MA, USA 01803. Tel: 1.781.564.0200; Fax: 1.781.564.0299; URL: http://www.exa.com
Exa, PowerFLOW, PowerCLAY, PowerTHERM, PowerCOOL, PowerWRAP, PowerSPECTRUM and PowerVIZ are registered trademarks of Exa Corporation. PowerACOUSTICS and PowerDELTA are trademarks of Exa Corporation.
###