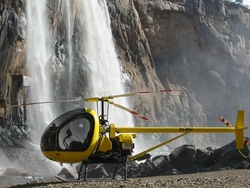 we are delighted to have our helicopter represented here by ROTOR F/X along with a full complement of service and support to meet all future client needs
Oshkosh, WI (PRWEB) August 5, 2009
As a finale to a record breaking EAA AirVenture 2009, ROTOR F/X LLC of Van Nuys, California made a major joint announcement today with the European helicopter manufacturer JSC CB Aerocopter that ROTOR F/X has become the distributor for the Aerocopter AK1-3 light helicopter for the Americas. The company will market, support and maintain the helicopter as well as provide primary and transitional flight training.
Mr. Igor Polituchyi, Director of JSC CB Aerocopter said, "we are delighted to have our helicopter represented here by ROTOR F/X along with a full complement of service and support to meet all future client needs".
The Aerocopter AK1-3 is a high performance two place light helicopter holding a European type certificate since 2006. It will initially be available as an experimental helicopter in countries such as the USA in the kit form, or alternately as a fully assembled aircraft built to the certification specification for other markets. Besides personal transportation this helicopter is extremely well suited for patrol, surveillance, ENG, training, agricultural and law enforcement markets. The low acquisition price that is well under $200,000 US and very low direct operating costs make this the most economic two place helicopter available by quite a margin.
"ROTOR F/X will handle all aspects of distribution including sales, a service depot, parts, MRO and flight training for the helicopter" said Steve Dupont, Operations Director of the California company. "This helicopter provides us with the very best choice available in a light two place helicopter and will complement our current line of single place Mosquito helicopters". He continued, "It will also be the very first time that a helicopter with the engineering and sophistication to hold an ICAO member type certificate will be available to amateur builders as a kit."
The AK1-3 features an advanced three blade laminated torsion bar hub and all titanium hardware through out. The state-of-the-art panel includes a full glass EFIS with a programmable suite of features such as moving maps, HUMS, TAWS, 3D HITS and Synthetic terrain vision available and the roomy cabin is appointed with adjustable leather seats.
Performance figures for the AK1-3 helicopter include a 115 mph maximum speed, a 100 mph cruise, 1800 fpm climb, a 9800' ceiling and a very economical 7 to 9 gallon per hour fuel requirement giving this helicopter a minimum 2 hour or 200 mile range with standard fuel supply. TBO is 2000 hours and lifetime is 8000 hours for this airframe.
The factory order book is currently 12 months in advance and new orders are being accepted.
ROTOR F/X LLC, located at the famous Van Nuys airport in California, will add the Aerocopter AK1-3 helicopter to its other helicopter services such as commercial brokerage, flight training, air charter and taxi, helicopter trailer transport, helicopter ferry service worldwide as well as shipping and import-export services for all aircraft. The company also manufactures components for experimental and ultralight rotorcraft of all types and has taken a leading role in UAV rotorcraft systems development and testing.
About JSC CB Aerocopter
JSC CB Aerocopter (http://www.aerocopter.com.ua) - a Ukraine corporation located at Poltava, Ukraine is the designer and manufacturer of the Aerocopter AK1-3 helicopter. Contact Igor Polituchyi at 38 0532-678-183
About ROTOR F/X LLC
ROTOR F/X LLC (http://www.rotorfx.com) - a California corporation located at Van Nuys, California is a service and sales provider for commercial helicopter operations and a manufacturer, MRO provider and developer of ultralight, experimental and UAV rotorcraft of all types. Contact Steve Dupont at 818-574-7663.
###