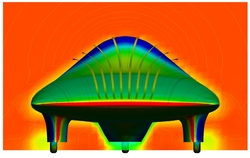 Every bit of aerodynamic drag has an effect on a solar car
Burlington, MA (PRWEB) February 27, 2009
Exa® Corporation, a global innovator of fluids simulation (CAE/CFD) software for product engineering, is pleased to announce that the Massachusetts Institute of Technology's (MIT) Solar Electric Vehicle Team (SEVT) used Exa's PowerFLOW® to successfully meet the demanding 2009 World Solar Challenge design requirements while maintaining the top speed from its 2005 design.
The 2009 World Solar Challenge is the ultimate challenge in sustainable energy.The challenge: to design and build a car capable of crossing the vast and imposing continent of Australia using only sunlight as fuel and to prove it, in the spirit of friendly competition, against others with the same goal. New 2009 solar car race regulations require drivers to be seated in the vehicle in a radically more upright position--an ultimately more practical design. This single change increased the frontal area of the vehicle by 30%, an enormous load increase for a car with only 2 horsepower.
The MIT Solar Electric Vehicle Team used PowerFLOW to digitally simulate and analyze external aerodynamic effects on the 2009 vehicle early in the development process, allowing the team to easily test and optimize different models on the computer long before a physical model was made. Design modifications were made throughout the model from fairings to back end adjustments based on PowerFLOW results; this allowed the MIT team to maintain the same speed as the 2005 car, even with the significant 2009 regulatory constraints.
"Every bit of aerodynamic drag has an effect on a solar car," remarks David Sanchez, SEVT Aero Lead. "PowerFLOW simulation data allowed us to make design modifications and easily fine tune our vehicle chassis, even slightly reducing our drag from our last model." Sanchez continues, "Without Exa in our engineering process, we would not have been able to achieve the results to meet our design goals."
"Exa is proud to support MIT's efforts to improve the environment and we wish them every success in their races," remarked Stephen Remondi, Exa's President and CEO. "Finding areas of improvement on such a highly optimized vehicle is difficult, but this team has proven that even in these conditions, simulation and analysis can identify design modifications that have huge impact. I look forward to seeing what this creative team accomplishes on their next model." The SEVT has already begun testing their 2010 car with PowerFLOW and plans to use Exa's PowerCLAY® geometric morphing software as well for optimizing surfaces on that model.
About Exa Corporation
Exa Corporation develops, markets, and supports a suite CAE and CFD simulation software tools including PowerFLOW, PowerCLAY, PowerWRAP®, PowerVIZ, PowerSPECTRUM®, PowerCOOL and PowerTHERM along with professional engineering consulting services. Exa's products and services enable engineers to create competitive designs, while shortening product design cycles, and speeding time-to-market. A partial customer list includes: AGCO, Audi, BMW, Chrysler, Ford, Hyundai, Kenworth, MAN, Nissan, Peterbilt, Renault, Scania, Toyota, Volkswagen, and Volvo Trucks.
Founded in 1991, the company is headquartered at 55 Network Drive, Burlington, MA, USA 01803. Tel: 1.781.676.8500; Fax: 1.781.676.8599; URL: http://www.exa.com
###