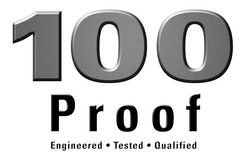 Maumee, OH (PRWEB) February 10, 2011
In response to offshore and private brand product influences in the performance channel, Aeroquip Performance put together three simple messages that are the pillars of the 100 Proof campaign:
1) Engineered - This promotes the fact that all Aeroquip hose and fittings are specifically designed to work together, not just parts, but a system. We don't rely on other companies to do our design work or prototypes, it's all done in house and with Eaton engineering processes that are world class.
2) Tested - Our hose and fittings are constantly tested to ensure we meet the 4:1 factor of safety rule that we build into all our products. 100% of the hose that goes out our door is proof pressure tested to 2x the rated working pressure of the hose to ensure there are absolutely no defects in the product. Also, a 4:1 factor of safety means that our products are design and built to withstand 4x the rated working pressure of the hose before any failure will occur.
3) Qualified - In fact, no other brand can claim that they manufacture both hose and fittings in this industry besides Aeroquip Performance and we've been doing it for over 65 years. This length of experience and our track record validates our claim as setting the bar for the competition.
Supported with plans for advertising, and sales tools to reach the consumer and distribution base, the 100 Proof message highlights the advantages that Aeroquip Performance Products offers as a manufacturer.
###