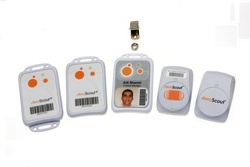 We are pleased to welcome PCTS to the AeroScout Partner Program, further broadening the set of solutions and capabilities we offer to healthcare organizations
MISSION VIEJO, Calif. & REDWOOD CITY, Calif. (PRWEB) February 26, 2008
"We are pleased to welcome PCTS to the AeroScout Partner Program, further broadening the set of solutions and capabilities we offer to healthcare organizations," said Yuval Bar-Gil, Co-Founder and CEO. "PCTS software solutions provide feature-rich workflow automation support at a department-specific level. This requires reliable and accurate equipment, patient and staff location and status information. By integrating our technologies, we offer a cost-effective solution with reliable room- and bay-level separation, to meet the patient and asset tracking needs of health care providers."
AeroScout, which is exclusively endorsed by the American Hospital Association for Wi-Fi-Based Tracking, works with value added resellers, system integrators and software providers to provide solutions for health care and other industries worldwide. As a gold-level partner, PCTS will provide the highest certified level of reseller and integration support to its automatic patient and asset tracking customers. The AeroScout technology, coupled with the PCTS Amelior(TM) software suite, provides hospitals with department-specific solutions to increase patient throughput, improve quality of care, reduce expenses and increase patient safety.
"PCTS is dedicated to providing the most comprehensive suite of workflow automation solutions for health care providers, and PCTS workflow software integrated with the AeroScout Wi-Fi-based asset and patient visibility solution creates a robust location services application for provider organizations," said Tony Marsico, CEO of PCTS. "The existing Wi-Fi network can be utilized for general asset and people tracking throughout a facility, and AeroScout offers the only Wi-Fi-based solution with the option of Exciters to provide reliable room and bay level accuracy. This further supports our department-specific applications and ultimately provides hospitals with a cost-effective and complete automation solution."
PCTS and AeroScout are currently deploying several integrated patient and asset tracking implementations that focus on improving workflow in emergency and surgical service departments.
PCTS pioneered the use of real-time locating systems to automatically track patients and assets in emergency departments and today provides purpose-built solutions for surgical services, outpatient services as well as enterprise-wide needs. Department-specific process rules recognize and timestamp patient care milestones based on the measurement of location, movement and interactions between patients, staff and mobile medical equipment. PCTS tracking solutions have supported over three million high acuity patient encounters at leading hospitals nationwide.
PCTS and AeroScout will both be exhibiting their solutions at the Healthcare Information and Management Systems Society (HIMSS) annual conference in Orlando, Florida on February 25-28. PCTS solutions can be viewed in booth #2221, and AeroScout in booth #2335.
About AeroScout
AeroScout is the market leader in Unified Asset Visibility solutions. The company's products accurately locate and monitor assets and people over standard Wi-Fi networks, to improve and automate business processes. AeroScout's global customer base includes many of the Fortune 500 and the world's leading hospitals. Founded in 2000, AeroScout pioneered the Wi-Fi visibility market by introducing the industry's first Wi-Fi-based Active RFID tag, and is widely recognized as leading the market in number of tags shipped. AeroScout is headquartered in Redwood City, Calif., with offices in Europe, Asia, the Middle East, Latin America and Australia. For more information, please visit http://www.aeroscout.com.
AeroScout is a registered trademark of AeroScout, Inc. Wi-Fi is a trademark of the Wi-Fi Alliance. All other trademarks are the property of their respective owners. Information is subject to change without notice.
About Patient Care Technology Systems
Patient Care Technology Systems, a subsidiary of Consulier Engineering, Inc. (NASDAQ: CSLR), supports health care providers with intelligent workflow automation solutions to improve patient flow and reduce the risk of medical errors. The company's Amelior(TM) software suite includes Amelior ED(TM), a comprehensive emergency department information system, and automatic patient and asset tracking software for the emergency department, perioperative suite and enterprise-wide needs. Amelior automatic tracking software is compatible with most leading locating hardware including ultrasound, infrared, RFID, ultra-wideband, and Wi-Fi. PCTS customers have been recognized nationally for improvements in efficiency and clinical excellence. PCTS was recognized with the prestigious Blue Diamond Award for Best IT Innovation in 2007. For more information, visit http://www.pcts.com.
This press release contains forward-looking statements within the meaning of federal securities laws. PCTS and CSLR caution you that any statements contained in this press release which are not strictly historical statements constitute forward-looking statements. Such forward-looking statements include, but are not limited to, those related to PCTS's and CSLR's expectations regarding continued business growth. These statements are neither promises nor guarantees, and involve risks and uncertainties that could cause actual results to differ materially from such forward-looking statements, (copies of which may be obtained at the SEC's website at: http://www.sec.gov) -- could impact the forward-looking statements contained in this press release. Readers should not place undue reliance on any such forward-looking statements, which speak only as of the date they are made. PCTS and CSLR disclaim any obligation to publicly update or revise any such statements to reflect any change in PCTS and CSLR's expectations, or in events, conditions or circumstances on which any such statements may be based, or that may affect the likelihood that actual results will differ from those set forth in the forward-looking statements.