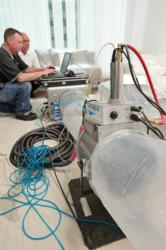 Aeroseal is proving to be the right technology at the right time.
Centerville, OH (PRWEB) August 28, 2012
Aeroseal LLC, owners of the breakthrough duct sealing technology that seals leaks from the inside, today announced that it has expanded into Canada with two new licensed distributors now offering aeroseal services in the greater Toronto area. This brings the total number of Aeroseal dealers throughout North America to more than 130.
This announcement comes as the company ships it's 100th duct sealing system to distributors – a tally that began when the company was founded less than two years ago. This 100th system milestone highlights the nationwide expansion of the Aeroseal company and the growing adoption of aeroseal technology as a significant solution for reducing energy costs and increasing home comfort and air quality.
"From the beginning, our main focus has been on providing HVAC professionals with the training and support they need to successfully increase business revenue with a great new complimentary service," said Neal Walsh of Aeroseal. "For us, 100 systems shipped in such a short time means we are well on our way to meeting the growing demand from homeowners and others looking to reduce energy costs and increase indoor comfort and air quality."
According to a recent report from Pike Research, the energy efficient home improvement market is forecast to increase to $50.2 billion by 2014. On the commercial side, the North American market for energy efficiency retrofits is expected to more than double over the next eight years, increasing to $35.3 billion by 2020.
"This summer's ongoing heat wave has only helped to put a spotlight on two of the main benefits of aerosealing your home," said Walsh. "A growing number of homeowners are looking for a way to balance the air conditioning in their home so that all rooms are equally cool and comfortable. Others are simply looking for a cost-effective means of reducing their home energy bills. Our Aeroseal dealers are able to offer a solution to both of these problems."
Developed at Lawrence Berkeley National Laboratory with partial funding from the U.S. Department of Energy, Aeroseal technology is the first and only aerosol-based duct sealing solution that works from the inside of the ductwork. Proven to seal 95 percent of the duct leaks in most homes and commercial buildings, Aeroseal can save property owners 30% or more on their heating and cooling costs.
Earlier this month, Aeroseal added its first two Canadian dealers to its team of certified service providers. Niagra Duct Cleaning in St. Catherines, Ontario and Cassidy's Air Duct Cleaning in Ajax, Ontario have both found Aeroseal to be the right technology at the right time.
"Interest in energy conservation and indoor comfort have never been higher," said Walsh. "Aeroseal offers a real solution to both of these concerns and now, with our ongoing expansion into Canada, Aeroseal is available to more people than ever before."
For more information on duct sealing or Aeroseal duct sealing technology, visit http://www.aeroseal.com or call (937) 428-9300.