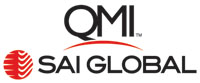 QMI-SAI Global is a North American leader in the AS9100-series of standards
Cleveland, OH (Vocus/PRWEB) April 12, 2011
Risk Management is an important topic with the aerospace industry. QMI-SAI Global has developed a Frequently Asked Questions document to answer many of the common inquires about the subject. Aerospace Risk Management FAQ is now available for download!
What is included in this paper? First of all, it gives a clear definition of risk and risk management. Then it explains why an organization should have a risk management system and the benefits that can come from it. There are two types of benefits from risk management – process benefit and products and services benefit.
Furthermore, the reader can also find out what an aerospace risk management program does, and how risk management relates to the AS9100 quality standard. Several sections from the AS9100 standard describe where risk and risk management are indentified.
At the end, readers will be able to learn what should be implemented first in order to start the process. The basic components of an aerospace risk management process will be defined.
This Aerospace FAQ document is recommended for all individuals who are involved in implementing or improving the organization's quality and risk management process.
QMI-SAI Global also offers to download and read the Aerospace white paper New Aerospace Quality Standards Bring Efficiency and Consistency to Audit, Certification and Surveillance Processes. It gives an overview of the AS9100 Rev C Aerospace and Defence Quality standard and how it can benefit organizations.
Interested in Aerospace Training? QMI-SAI Global has a variety of aerospace courses that can help understand the standard and improve business performance. Specifically, we have a new training course – AS9100: Understanding and Transitioning to Revision C – that discusses the new changes to the standard. A significant portion of this course is devoted to Risk Management, since this is such an important aerospace topic. Click here to find out more!
Company Profile:
QMI-SAI Global helps organizations manage risk, achieve certification and drive improvement by providing training, registration audits, and supplier management programs that can improve business performance. QMI-SAI Global is a North American leader in the AS9100-series of standards, including an extensive staff of highly-trained Aerospace Experienced Auditors across the U.S. and worldwide.
QMI-SAI Global is focused not only on evaluating business practices against a standard, but also on understanding how compliance with those standards can improve the operations of our customers. QMI-SAI Global auditors are industry veterans with years of experience in the sectors they serve, enabling them to interpret the standards precisely.
QMI-SAI Global Training and Improvement Solutions specializes in offering a range of innovative learning approaches and tool-based solutions to enable both individuals and organizations to achieve key objectives.
###