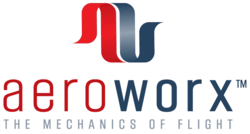 The big news is how much more we can offer our customers.
Torrance, CA (PRWEB) June 15, 2011
Aero Pneudraulics, the industry's leading provider of aircraft repair and overhaul services, is announcing a name change.  After significant increases in personnel, space and capabilities, the company has changed its name to AeroWorx.
The change becomes official just months after the company expanded into a new 40,000 square foot facility in Torrance, Calif.
"We've nearly doubled our size, which means increased capabilities, expanded service and more mechanics working at our facility," says Gary Furlong, company president and founder.  "The name change better reflects who we are and what we do."  
The name change includes a new logo for the company, and a tagline that reads, "The mechanics of flight."
The announcement comes on the heels of the company's return from the ALTA CCMA 2011 in Nassau, Bahamas. Brian Crockett, the new AeroWorx Sales Manager, attended the show and talked about what the changes at the company mean to their customers.
"The name change is exciting," said Crockett, "But I think the big news is how much more we can offer our customers. That's the message I was getting out at the show."
Crockett joined the company earlier this year and was part of the group developing the new name and associated branding. "What excites me most about being here is how the company has been able to grow and expand, even in a challenging economy."
AeroWorx currently offers dual release FAA and EASA authorization as an unlimited class I, II and III accessory repair station.
The company's reputation for stringent quality control and fast-response capabilities have fueled its rapid growth. AeroWorx guarantees a 21 day lead time for the repair and overhaul of common aircraft components and systems. This reputation has made it a trusted supply-chain partner for leading aircraft manufacturers and operators, including both civilian and military customers.  
Even with all this recent growth, AeroWorx isn't ready to slow its pace of expansion. The company is in the process of obtaining Parts Manufacturer Approvals from the FAA to add manufacturing to its portfolio of services.
"We've developed a path that allows our company to grow rapidly without any sacrifice in the quality of our work," said Furlong. "And we plan to keep matching our growth with the demands of our customers."
About AeroWorx
AeroWorx was founded in 1998 under the name Aero Pneudraulics. The company is located in Torrance, Calif., in a 40,000 square foot facility. AeroWorx is the aviation industry's leading provider of pneumatic, hydraulic, electromechanical and fuel system repair and overhaul services.
Focused on meeting the needs of the domestic and international aviation community, the company supports leading fixed and rotary-wing operators, MROs and manufacturers with a wide range of repair and overhaul solutions.
# # #