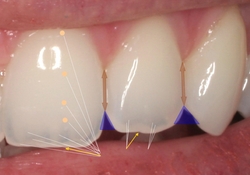 What's Your Smile Story?
San Francisco, CA (PRWEB) February 16, 2009
Smiles are life's centerpieces and probably some of the most critically observed attributes of a person. Beauty is in the eye of the beholder, yet the sharing of aesthetic viewpoints seems to be indulged and appreciated by everyone. Teeth rank highest among aesthetic interests but are also one the touchiest topics. "What's Your Smile Story?" solved this quagmire. It invites visitors at http://www.aesthetic-dentistry.com/smiles to share their smiles and associated stories with the community.
Everyone can decide at what level of privacy he or she wants to communicate. In fact, a higher magnification of a submitted smile image does not only give a better idea of a dental situation, it is also less likely to be connected to a person. However, there is no limitation to the amount of face one wants to display. After all, most smiles are naturally beautiful and deserve to be shared with all their splendor.
There are many individual aspects in a smile that attract attention. Each tooth has its own group of specific characteristics and its own particular contribution to a smile. Lateral incisors are the smallest among the upper teeth. "They are often considered the 'unsung heroes'," Dr. Rabanus states. "Little intricacies, such as incisal notches, roundness of line angles, and the play of hues and incisal translucencies, make the difference between a vivid and a lifeless smile. Sometimes, a little twist may even add some personality to a smile."
One may wonder whether the shape or position of a tooth is considered embarrassing or rather 'cute.' What about those little spaces? Are they a big deal, just part of my personality, or never recognized by anyone else?
Many don't want to go to a dental office for this personal issue with the "big personality." It often ends up with just one verdict and a sales pitch. Hence, millions choose to browse the internet hoping to find answers to their quagmire that may not be one. They end up more confused than before. Suddenly, that little issue with the "big personality" has ten different names, and one had to realize that no fashion model has that much personality in one tooth.
"It was clear from the beginning that people need to be able to communicate their individual concerns, not just read a catalog of information," says Rabanus. This is why http://www.aesthetic-dentistry.com had established its first interactive feature about fifteen years ago, an era when most websites were just colorful business cards. A smile-analysis form allows for an informal explanation of personal scenarios by pressing just a few buttons. A more personal dialogue can be established by sending text messages or e-mails to Dr. Rabanus who answers personally within 24 hours.
"Many patients send pictures of their teeth and smiles from as far as Europe, India, and South Africa asking me to make some suggestions," Rabanus states. "A quick clarification of some of their confusions often allows them to find a local dentist who provides the service that best serves their needs."
Most patients initiate contact by completing a simple contact form briefly describing their situation requesting a response by phone or e-mail. Some of Dr. Rabanus' patients expressed their enthusiasm about the quality of communication on a video that is displayed in the testimonial section of the website, http://www.aesthetic-dentistry.com/dr_rabanus_testimonials.php.
The site's most recent interactive platform, http://www.aesthetic-dentistry.com/smiles, goes a big step further. It allows visitors to share their smile stories and learn from each other. Sharing their smile stories with each other may help them refine their own ideas and considerations about their teeth. Members of the community will get an idea about how the other person at the dinner table or at the bus stop would feel about their teeth.
Dr. Rabanus intends to create a sense of community by increasing the interaction among his visitors. The "Smile It!" button makes it easier for visitors to express their satisfaction with the quality of a posted image, the appeal of a story, or the value of a particular question for one's own concerns. At the end of the month the numbers of clicks will be counted and tabulated. The visitor with the highest amount of "Smile It!" clicks receives a home-whitening kit. A feature like this allows us to obtain a simple survey that will help us formulate a higher standard of communication and display.
The forum's front page contains Dr. Rabanus' Corner, which picks up frequently asked questions in greater detail and relays them as a point of reference to the main website.
http://www.aesthetic-dentistry.com captivates by its organization. The chapters are neatly divided into concerns and problems and describe how each of them can be addressed. One common solution to many problems are porcelain veneers. The site has a plethora of examples of patients who received veneers. More technical details about the various materials that are used for the fabrication of porcelain veneers and the ways they are bonded to teeth can be reached by linking into deeper-layered pages.
"The word 'cosmetic' has been excessively inflated across the beauty-and-health industry often just to attract new clients, customers, or patients," asserts Rabanus, "However, cosmetic dentistry is a science and it offers many solutions."
Dr. Rabanus is one of 250 dentists worldwide who are accredited* by the American Academy of Cosmetic Dentistry (AACD).
###