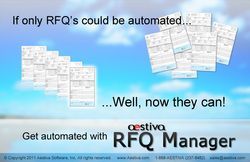 Aestiva is working to make Aestiva RFQ Manager 'the product of choice' for professional buyers, international sourcing companies, resellers, importers, exporters, procurement managers, and businesses that manage large numbers of re
Torrance, CA (PRWEB) February 25, 2011
The new features of Aestiva RFQ Manager include tools for quoting alternate pricing and streamlining the quotation process. The new features build on the product's goal of speeding up quotation turnaround time, without losing the ability to customize quotes
Aestiva is working to make Aestiva RFQ Manager "the product of choice" for professional buyers, international sourcing companies, resellers, importers, exporters, procurement managers, and a myriad of business organizations that manage large numbers of requests from suppliers and customers for quotes for goods and services.
With advanced and flexible report-generation tools, single-click data flow of reports to spreadsheets and charting software, and a growing list of advanced features,
Aestiva RFQ Manager provides a high level of automation in an industry dominated by large amounts of complex paperwork.
Since Aestiva RFQ Manager is produced by Aestiva, a leader in Business Process Automation, the product can be extended, customized and can easily exchange data with external Sales, CRM, ERP, Supply Chain and financial software packages.
Users access the application via an in-house Intranet or the Internet using any browser (Internet Explorer, Safari, Firefox, and others). Unlike single-user software packages that run on a local PC, Aestiva RFQ Manager requires no desktop installation. Aestiva RFQ Manager is installed on standard servers. It can also be hosted on the web without per-user fees. For more information on Aestiva RFQ Manager visit
http://www.aestiva.com/rfqmanager
Aestiva RFQ Manager is part of a family of products spanning purchasing and procurement, expense management, time tracking, human resources, IT and operations support.
About Aestiva Software:
Founded in 1996, Aestiva serves over a thousand customers worldwide. Aestiva solutions significantly streamline and improve business processes. The company specializes in 100% browser-native technology that can be installed with limited or no IT overhead. Live web demonstrations are available by calling 1-888-AESTIVA (237-8482) or 1-310-697-0338.
###