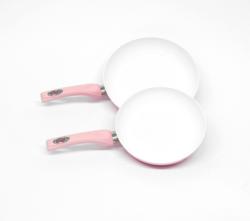 Rancho Cucamonga, CA (PRWEB) October 03, 2012
Bialetti, the leading Italian coffee and cookware brand known for its forward thinking in both innovation and style—shows its support for Breast Cancer Awareness month with its Aeternum Pink sauté cookware set. Ten percent of all Aeternum Pink sales will go to the National Breast Cancer Foundation, which is committed to spreading knowledge and fostering hope in the fight against breast cancer.
Bialetti's Aeternum Pink features Aeternum's signature white ceramic non-stick interior and is sold as a 2-pack sauté pan set (9.5" and 11"), currently available at bialettishop.com and Bed, Bath and Beyond for an MSRP of $59.99.
The Aeternum Pink Cookware incorporates Bialetti's innovative white, ceramic technology with its iconic style. Its easy-to-clean coating paired with a heavy-weight aluminum base provides excellent thermal properties and even heat distribution so dishes are cooked to perfection every time.
Aeternum Pink is also PFOA free and its non-stick coating is applied at a low temperature, leading to a lower emission of CO2 into the atmosphere. In addition, the pan heats up quickly requiring les energy. Plus clean up is so easy that less soap is required, making the Aeternum Pink a "greener" choice that supports a great cause.
For more information about Bialetti and its products, please visit http://www.bialetti.com or find us on Facebook at http://www.facebook.com/bialettiusa.