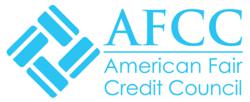 Fort Lauderdale, FL (PRWEB) June 16, 2011
As part of its ongoing action to ensure that consumers who are drowning in debt can find strong, fair advocates against overwhelming credit card debt, The Association of Settlement Companies has dramatically revised its name, its vision and its mission with its launch as the American Fair Credit Council.
The American Fair Credit Council (AFCC) has adopted a strong vision and mission that focus on the struggling consumers served by its 43 charter member credit advocacy companies, according to Robby Birnbaum, president of the AFCC.
"The time is right to clarify how our new charter helps struggling consumers find relief from overwhelming credit card debt," said Birnbaum. "We formed the AFCC to advocate for consumers in the fight for better treatment by the credit card companies. Anyone who does business with an AFCC member is protected by a very strict code of conduct that ensures consumers receive the fair and aggressive advocacy they need."
Key characteristics and tenets of the new organization include:

Adherence to Federal Trade Commission debt relief rules: All members adhere to Federal Trade Commission (FTC) rules for consumer protection in the debt relief industry. AFCC members charge fees only after they have successfully resolved, or settled, debt for their customers. AFCC will take action against companies that do not follow those rules.
New code of conduct: Credit advocacy companies can join AFCC only after they certify that they abide by the AFCC's new code of conduct, which includes emphasis on full compliance with the FTC rules regulating all debt relief and consumer credit advocacy companies. "There is now a bright line between good actors – and bad," said Birnbaum.
Industry resource: The AFCC will serve as a key resource on the credit advocacy industry. Legislators, regulators, borrowers and consumer advocates can turn to the AFCC for information about the impact of credit advocacy, regulatory compliance, and credit card lending practices.
AFCC member companies collectively have helped consumers resolve more than $2 billion in credit card debt, according to Bob Linderman, AFCC's vice president. "Many of the people we serve through the AFCC's 43 members have accumulated serious levels of debt due to unforeseeable circumstances, such as job loss, divorce or serious medical problems," he explained, "For these people, credit advocacy is a viable, legitimate option, and the AFCC is a powerful advocate to educate consumers and others about credit options."
Consumers seeking more information on The Association of Settlement Companies' transition to AFCC can learn more at http://www.americanfaircreditcouncil.org.
###