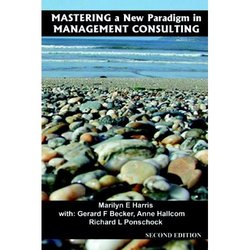 Mastering a New Paradigm in Management Consulting (2nd edition)
Farmingdale, NY (PRWEB) September 23, 2008
Forget yesterday's case study driven MBA programs. America's executives are discovering that today's business world is their classroom. And to help them better prepare, AFCO Systems (http://www.AFCOSystems.com ) president Jerry Becker has co-authored "Mastering a New Paradigm in Management Consulting (2nd edition)" along with lead author Marilyn E. Harris and co-authors Anne Hallcom and Richard L. Ponschock. The authors have taken a holistic approach, advising management readers to influence changes in their systems, rather than their employees, to effect a lasting transformative change. The book is intended to be used outside of the classroom, in practical business settings. "Mastering a New Paradigm in Management Consulting (2nd edition)" is available via Amazon and CreateSpace.
The book takes a three-part approach to gaining understanding and critical mastery of the necessary learning process, presented as "Learning to BE, Learning to LEARN, and Learning to DO."
"We trust that business readers will look for ways to incorporate the framework we discuss in their own organizations," said Becker, a co-author with more than 30 years experience in the information technology industry. He holds a doctoral degree in Organization and Management from Capella University, based in Minneapolis, MN. Before joining AFCO, Becker managed large datacenter environments for financial institutions, including Bankers Trust Company and Lehman Brothers, and held management positions with several software and professional services companies, including Greenwich Technology Partners, Aperture, and TIBCO.
Lead author Marilyn E. Harris earned her PhD at the University of Michigan, where she spent a decade in applied action research at the Institute for Social Research, and consulting to management in business and industry.
Co-author Anne Hallcom earned her PhD in Organization and Management with a Leadership Specialization. She has senior leadership experience in operations, development and quality regulatory compliance for the healthcare industry.
Co-author Richard L. Ponschock earned his PhD in Organizational Management with an Information Technology specialty. He is the General Manager of a third-party Logistics operation and director of Information Technology for a private multi-national organization.
About AFCO Systems
AFCO Systems is a global leader in the design and manufacture of scalable enclosure technology for mission-critical datacenter environments. It has the one of the largest globally installed bases of active, air-cooled, high-density (5-8 kW) and extreme high-density (up to 20 kW) server and network cabinets. AFCO Systems' active airflow control technique, delivered through its KOOL-IT™ brand of technologies and services, provides cost-effective datacenter cooling in accordance with ASHRAE standards. This enables datacenter operators to measure, manage, monitor, and maintain their overall energy efficiency. The company is headquartered in Farmingdale, NY with global operating capabilities for its installations in North America, Europe and Asia. For more information, visit http://www.AFCOSystems.com or call 631-249-9441.
Media contact:
Rich Mullikin
Communication Strategy Group for AFCO Systems
rmullikin@gocsg.com
http://www.gocsg.com
# # #