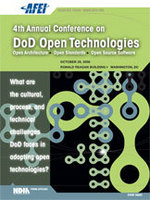 The adoption of open technologies by DoD can be very controversial
Arlington, VA (PRWEB) September 23, 2008
As the Department of Defense increases adoption of open architectures and open source software, one unavoidable consequence will be changes to business models. AFEI has assembled industry and government leaders to address this issue at the 4th DoD Open Technologies Conference on October 29th. While these technologies hold promise for increased agility and lower cost for DoD software, their use will impact the way DoD does business with its contractors.
A new focus for this year's conference is change to existing business models as a result of open technology adoption. The program highlights the growing influence open architecture and open source software has in many areas of the Department. The Navy, for example, is committed to open architecture to provide the ability to insert new component technologies into existing systems. This will provide greater capabilities, stimulate competition and reduce over-all program risk. These new component technologies often come from small, high-tech firms. Preserving government access to this source of innovation is vital. Mr. Nick Guertin, Deputy Director for Open Architecture, US Navy, will use his experience with open architecture to lead a panel of government and industry experts on this issue.
The lead DoD keynote speaker will be Mr. John Garing, CIO and director of Strategic Planning at the Defense Information Systems Agency (DISA). He will address the Joint Information Environment and the emerging net-centric DoD 2.0 which, like Web 2.0, will enable new, unanticipated ways of assembling systems to accomplish DoD missions.
Another open technology, open source software, is now quite prevalent in some DoD systems, however the procurement process for open source solutions is still a problem. OSD is currently updating its 2003 open source software policy memorandum to address this issue. Daniel Risacher, Data Strategy Leader, OSD, will address new facets of this policy at the conference.
Even though the security of open source is still hotly debated, many feel its time has come. Speaking last year at the 3rd Annual AFEI Open Technologies conference, BG Nick Justice, PEO Command, Control and Communications Tactical (C3T), US Army, said, "The operational utility of open source software continues to be demonstrated in the current fight."
"The adoption of open technologies by DoD can be very controversial," said Dave Chesebrough, President of AFEI. "AFEI has been a leader in tackling the complex, confusing and sometimes emotional issues that surround Government policy on open technologies."
Government and Industry Leaders speaking at the conference include:

John Garing, CIO and director of Strategic Planning, DISA
Bill Vass, President and COO, Sun Microsystems Federal, Inc.
Mark Tolliver, CEO, Palamida
Nick Guertin, Deputy Director for Open Architecture, PEO IWS, US Navy
Carl Siel, Jr., Chief Engineer, US Navy RD&A (invited)
Daniel Risacher, Data Strategy Leader, ASD (NII)
About the 4th DoD Open Technologies Conference:
The conference continues to bring together key professionals from the military services and defense agencies, Congressional staff, integrators, vendors and experts in intellectual property and licensing to discuss the many complex issues that surround open technologies. The conference is sponsored by GoAhead Software. (http://www.afei.org/brochure/9a03/)
About AFEI:
The Association for Enterprise Integration(AFEI )is an industry association dedicated to the advancement of the sharing, integration, management and protection of information across extended enterprises (people, process and technology), with a focus on national security and defense issues. AFEI (http://www.afei.org) is an affiliate subsidiary of the National Defense Industrial Association (NDIA) (http://www.ndia.org), America's leading defense industry association promoting national security.
###