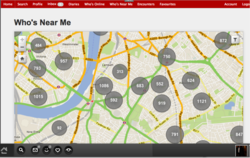 We have increased from being able to search 73 locations to over 24,000!
(PRWEB UK) 7 January 2013
A no-strings dating website has just made the quickie even quicker and easier. Maritalaffair.co.uk is one of the first UK dating websites to install a new fine-tuned location service that allows members to see who is online within as little as a 100metre radius.
It means that men and women can find a willing muse who may be online in their very hotel or village. Previously the site's search facility allowed members to search for matches within two miles of a town. Now the new intricate search feature, which is based on postcodes, can be homed in to the village, district or sometimes even the street.
Maritalaffair.co.uk is one of the largest adult dating websites in the UK. Before the new 'Who's Near Me' feature, members hoping to get lucky had a choice of 73 different destinations around the UK. Now they can narrow their search from 24,021 destinations. (See the attached image below for an example).
No one has to divulge his or her place of residence though. Maritalaffair.co.uk prides itself on protecting members' anonymity. It works like this: members put in the postcode where they are located once logged in (tracking your location using GPS or location services is not necessary). A map pops up detailing the number of people online in each 100 metre cluster. The technology is usually used and has proven to be very popular with property websites.
Site founder Paul Graham said: "This is a really exciting development in dating site technology. It gives our members a much better experience and a much greater chance of meeting with someone on short notice. It's particularly of use when people are on their travels. With a site the size of ours, a search on one town brings up thousands of results. But this allows a thinner layer of search criteria, producing profiles you really do stand a chance of meeting. It's a new level of convenience to a no-strings-attached website."
Critics however have reservations and the site has already received emails from the public who disapprove of its business model which allows married people to date discretely. One claimed that "technology encouraging couples to meet on spec for sex creates a culture of 'takeaway sex'."
Other dating apps and devices have tried to make use of GPS technology by notifying members when fellow members are in their vicinity, but most require an app to be installed on a smartphone which most people looking for discrete dating don't want to do.
Maritalaffair.co.uk says it has seen a 20% increase in people using the site since the technology came into play. The take-up from free-trial to fully-paid subscription has increased from 50% to 70% since the introduction of the Who's Near Me feature. Member feedback so far has been 100% positive.
A member, who utilised the feature wrote: "This is definitely the future! I was able to contact women who were online in the same area of my city where I work. I have been able to set up lunch dates this week because I know they are based within a 10-minute walk of my office without having to exchange 20 emails. With NSA sites, the convenience factor is essential"